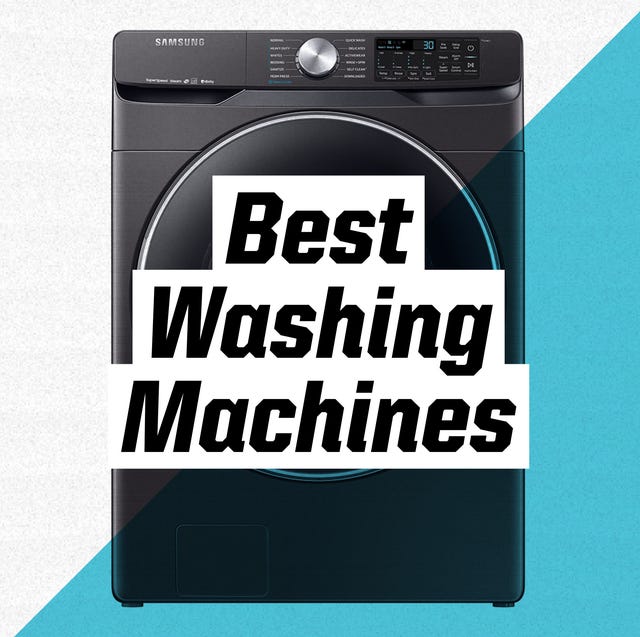 Staff
If your home has enough space for a full-size washing machine, it's definitely a worthwhile investment. The right washing machine will make laundry a quick and easy chore, leaving your clothes and linens fresh, clean, and ready to be dried. Some washing machines can even handle bulky items like comforters, saving you a trip to the dry cleaner.
While you can still find no-frills washing machines with only basic settings, many of today's washing machines have convenient features like detergent dispensers, Wi-Fi connectivity, and steam cycles for sanitization. Some can even run multiple loads at once, and most are Energy Star certified, meaning they use less power to help lower your electric bills.
What to Consider
When shopping for a washing machine, you'll have to decide whether you want a top- or front-load unit. Top-load washing machines are generally less expensive, require less space, and need less maintenance. However, front-load washers are generally better at stain removal, use less water, and often come with more features.
Other things to consider when selecting a washing machine is its capacity, which is measured in cubic feet. Machines with 4 cu. ft. capacity or less are ideal for two to three person households, as they can typically hold around 12-16 pounds of laundry at a time. If you have a larger family, you'll likely want to look for a machine with a more spacious drum. You'll also want to consider the size and configuration of the washing machine to determine how it will fit in your home.
How We Selected
We know that everyone has different needs and preferences in washing machines, so we wanted to provide a wide range of options to suit various households. When selecting models for this list, we looked for both top- and front-loading washers in a range of sizes, including options with extra-large capacity as well as portable washers that can be used in apartments or other small spaces. We also highlighted products with useful and sought-after features, including ones that operate quietly, automatically dispense detergent, and can be stacked with matching dryers.
Advertisement – Continue Reading Below
1
Best Front Loading
GE Appliances Smart 4.8 Cu. Ft. Energy Star Front Load Washer
GE Appliances
wayfair.com
$1,099.00
This front-load washer from GE has all the features you could ever want, and it comes in satin nickel and white finishes. The high-efficiency washer has a 4.8 cubic foot capacity, and it includes Wi-Fi connectivity, allowing you to start, stop, and monitor the cycle from your phone. The washing machine features an intelligent detergent dispenser that holds up to 32 loads worth of detergent, and it even has a steam setting, which is ideal for sanitizing clothes. Because front-load washers are often prone to mold and mildew growth, this model has a unique venting system that eliminates excess moisture, as well as an antimicrobial gasket and draining system.
Wi-Fi connectivity
Automatic detergent dispenser
Prevents mold/mildew growth
2
Best Top Loading
Samsung White 5.4 cu. ft. Top Load Energy Star Washer
Samsung
wayfair.com
$799.00
If you're partial to top-load washing machines, this model from Samsung has an extremely large capacity that's ideal for big families. The high-efficiency machine has a 5.4 cubic foot capacity with an impeller that's more gentle on clothing than traditional agitators, and the stainless steel drum has a unique pattern on the walls that helps extract more water from laundry at the end of the cycle. You can choose from five spin speeds and five temperature settings to customize each load, and the machine is equipped with a built-in faucet that lets you pretreat stained clothes, as well as a soft-close lid and self-cleaning setting.
Large capacity
Soft-close lid
3
Best Budget
Frigidaire Series 4.1 cu. ft. High Efficiency Top Load Washer
Frigidaire
wayfair.com
$697.00
This affordable top-load washing machine has all the features you need to get your laundry done right, and while it may lack some of the more high-tech offerings of more expensive models, it's still a great value. The high-efficiency design has a 4.1 cubic foot capacity, as well as a traditional agitator inside its stainless steel drum, and there are 12 wash cycles to choose from, including five soil levels and water temperatures. There's even an option to save your favorite settings and a Quick Wash cycle for faster cleaning.
Affordable price
Simple design
4
Best Quiet
Bosch 300 Series 2.2 cu. ft. Energy Star High Efficiency Front Load Washer
Bosch
wayfair.com
$1,099.00
This high-efficiency Bosch washing machine is a great choice if your laundry is near a bedroom or living area, as it operates incredibly quietly thanks to the EcoSilence motor. The front-load washer is on the smaller size with a 2.2 cubic foot capacity, and it can be stacked with a compatible dryer to take up less space. The washer offers a total of 15 wash cycles with 10 temperature settings and three spin speeds, as well as designated cycles for jeans, towels, and drum cleaning. Plus, the brand's SpeedPerfect technology delivers up to 40% faster washing time.
Quiet during operation
Stackable
5
Best Stackable
Samsung Black Stainless Steel 4.5 cu. ft. Smart Front Load Energy Star Washer
Samsung
wayfair.com
$799.00
This washer from Samsung can be stacked with a compatible dryer, making it a good choice for homes where space is limited. The high-efficiency front-load washing machine is available in several finishes, and it has a 4.5 cubic foot capacity, making it appropriate for medium to large households. It's equipped with Wi-Fi so you can control the appliance from your smartphone, and there are 12 wash cycles, five temperature settings, and five spin speeds to choose from. The Samsung washer also has a steam function for sanitizing clothes, and its self-clean cycle eliminates 99% of bacteria that can form in the drum.
Stackable
Wi-Fi connectivity
Self-cleaning
6
Best Portable
Farberware Professional 1.0 Cu. Ft. Top Load Washer
Farberware
wayfair.com
$231.90
If your home doesn't have a designated laundry hook-up, this portable top-load washing machine allows you to do laundry using a sink. The compact design is small enough to be stored in a closet when not in use, and it hooks up to a standard faucet for operation. The 1 cubic foot capacity can hold around 7 pounds of clothing at a time, and you can choose from seven wash settings, including gentle and fast cycles. Despite its small size, the washer can reach spin speeds of 800 revolutions per minute, and its LED controls are simple to use.
Portable
No washer hook-up needed
Very small capacity
Not energy efficient
7
Best for Multiple Loads
Samsung Black Stainless Steel 6.0 cu. ft. Smart FlexWash Energy Star Washer
Samsung
wayfair.com
$1,399.00
The unique design of the Samsung FlexWash Washer allows you to run two loads of laundry at once. It has a 5 cubic foot front-load drum, as well as a 1 cubic foot top-load compartment, and they can be run at the same time using separate settings. The main lower washer has 12 different cycle settings, including ones for bedding, active wear, and towels, and it features the brand's "super speed technology," which completes loads 45% faster and can clean a full load in as few as 30 minutes. The upper washer has just four cycle settings—normal, delicates, active wear, and rinse and spin—making it ideal for small loads. The whole machine has Wi-Fi connectivity, allowing you to control and monitor its progress.
Large capacity
Two separate washing compartments
Wi-Fi connectivity
8
Best for Detergent Pods
GE Appliances White 4.8 cu. ft. Energy Star High Efficiency Top Load Washer
GE Appliances
wayfair.com
$854.10
If you're partial to detergent pods, this GE washing machine has a specific pod compartment with a dedicated water jet that pops the pod and showers it with water to activate the detergent faster for optimal cleaning. The top-load washer has a 4.8 cubic foot capacity, and the stainless steel drum features an impeller for gentle handling. There are 12 wash cycles, as well as six temperature settings and five spin speeds. Plus, the washer features balancing technology that results in reduced vibration for a quieter cycle, and there are preset modifications available on each wash cycle to help remove common stains.
Activates detergent pods
Large capacity
This content is created and maintained by a third party, and imported onto this page to help users provide their email addresses. You may be able to find more information about this and similar content at piano.io
Advertisement – Continue Reading Below