Welcome to our How to Shop Like series, where we spotlight personalities within the fashion industry and take a deeper look at their personal relationships with fashion and how they shop—think all the best insider tips and tricks. This week we're chatting with the founders behind Common Ace, your one-stop destination for sneakers, Sophia Chang and Romy Samuel.
If there's one shoe that has perhaps seen more wear throughout this pandemic, it has to be the sneaker (aside from possibly a house slipper). But even before that, the industry was booming. And as any field evolves into establishment, there are some kinks to work out. Like so many others, this industry is one dominated by men, or at least it used to be. Sophia Chang and Romy Samuel joined forces to launch Common Ace back in May as a platform that specifically caters to women. There, they've pooled sneakers from top retailers including SSENSE, Farfetch, Nike, StockX, and more into a single search engine so shoppers can access that information all in one place.
Like most creatives, their boundary-pushing innovation leaks into their personal relationship with fashion, as well. Aside from highly impressive personal sneaker collections (Samuel's in particular boasts over 350 pairs), the duo has meticulously curated their respective wardrobes with everything from high-end designers—Prada, Sacai, Margiela—to the coolest emerging brands—KkCo, Online Ceramics, Reigning Champ. We recently caught up with Chang and Samuel to discuss all things personal style, including their favorite pairs and how they like to wear them.
Shop Sophia's Current Picks:
Shop Romy's Current Picks:
Photo: Brian Tampol
When did you first fall in love with fashion?
Sophia Chang: "I want to say high school? Growing up in Queens in the '90s, hip-hop music and street art were big influences for me. The fashion within those scenes followed."
Romy Samuel: "When I threw a tantrum over a pair of rainbow rainboots. I was four."
What attracted you to sneakers specifically?
SC: "I'm a women's size five, so it's pretty difficult to find anything in my size. I also happen to fit into kids' sizes, so in my early sneaker-collecting days, I'd be able to get a couple Jordans at a much cheaper price. More than anything, living in New York, you're on foot a lot and in a hurry—you never know when you gotta run to catch a light."
RS: "They go with anything, and I can walk and walk and walk in them and not complain. They are a form of creative expression on your feet."
What does personal style mean to you, and how would you describe your own?
SC: "As a freelance artist always on the go, my personal style is deeply influenced by my lifestyle. From having client meetings, posting up to answer emails, catching a workout, to grabbing dinner with girlfriends or stopping by an art show, I've gotta pack for the day and make sure I look my best for all of the occasions. There's a strong mix and match of sportswear (for the gym), streetwear (my roots), and high fashion!"
RS: "It's a creative extension of oneself. It truly says so much about a person! Snap, crackle and pop of color went to space via Hong Kong, had a beer, then ended up at a party on Fairfax but decided to retire in Hawaii."
Photo: Ja Tecson
Do you have a uniform?
SC: "In college I did. As an art school student, I couldn't compete with a lot of the Alexander McQueens and Phillip Lims that Parsons students typically wore. As a way of staying true to myself, I wore a white tee (that had silkscreen splatters), blue jeans, and Vans on rotation. Nowadays, I'm WFH cozy all day in Reigning Champ."
RS: "Depends on the season and if there is a pandemic."
Factors to keep in mind when purchasing sneakers?
SC: "It doesn't matter if a pair is for men, women, or kids. If it looks good and it fits—cop 'em."
RS: "Make sure they fit and that you will wear them!"
Best pair for a first-time purchase?
SC: "Air Force 1s. You can't go wrong with a fresh pair these days."
RS: "Air Force 1s or some Converse."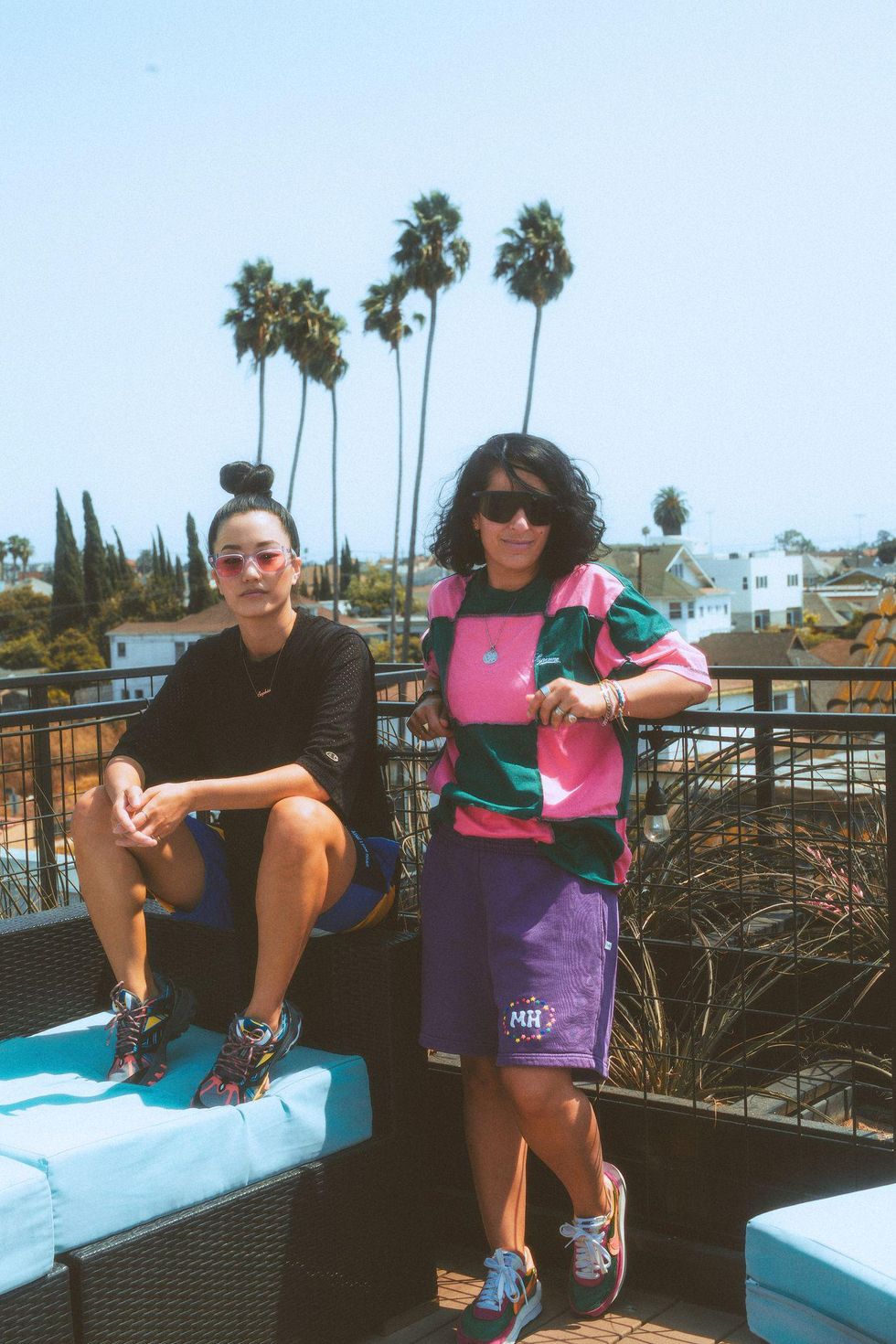 Photo: John Marquez
Favorite purchase of all time, sneaker-related or otherwise?
SC: "I grew up during the prime time of AF1's, otherwise you can't go wrong with a classic pair of wheat mid-top Timbs, being from the East Coast, of course."
RS: "It's like asking who's your favorite child. I do have a pair of Liberty Air Max 1s from 2013 that always come to mind…"
Other than your own, which stores do you frequent?
SC: "The ones that got a sale! I spend a lot of time browsing on my couch after a long workday, only to 'accidentally' buy something! I am frequently on Nike, Ssense, Farfetch, and ASOS."
RS: "Kith, Dover Street, Bodega Store."
What would your closet be full of if money were no object?
SC: "Clothes, clothes, clothes and sneakers, sneakers, sneakers. It's kind of already headed in that direction though…"
RS: "Prada, JW Anderson, Sacai."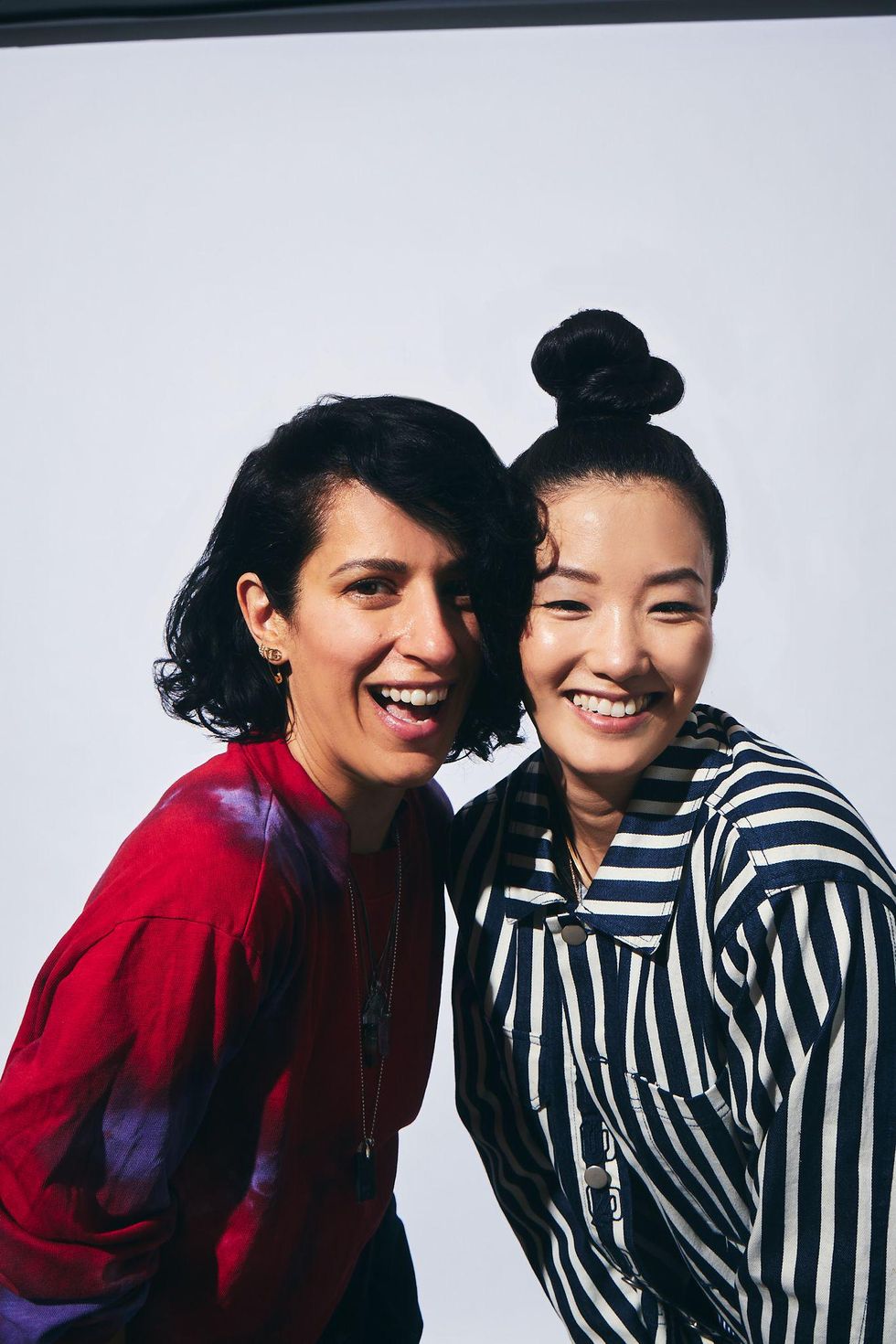 Photo: Brian Tampol
Style icons?
SC: "So many! I admire people who mix and match high and low fashion well. My friend Julian Paik is awesome, @sabpass on Instagram, @giaxseo the infamous sock influencer—just to name a few."
RS: "Grace Jones, David Bowie, and Kate Bush."
Go-to ways to style sneakers? Is there anything you wouldn't pair with a sneaker?
SC: "I wouldn't pair an off-brand sock with the sneaker. I'm one of those people who needs brands to match a bit. I appreciate a pant cuff when applicable on gals or boys. A bit of sock personality is great, whether it's texture, color, or pattern."
RS: My easy go-tos are flowy wide-leg pants or baggy jeans with a chunky or high-top sneaker and cropped-ish long-sleeve tee; a long, flowy skirt, a tucked-in tee or cropped crewneck sweater with an Air Force 1, Sacai, Air Max 97, or Stan Smith; or matching sweats, a long trench coat, and any bloody sneaker!
What does your current WFH wardrobe look like?
SC: Reigning Champ all day, every day. And Alternative Apparel. But if I have an important meeting where I need to impress, I just change my top into a black turtleneck and put some concealer and brows on.
RS: "Matching sweats, hoodie, and shorts, or even not-so-matching sweats."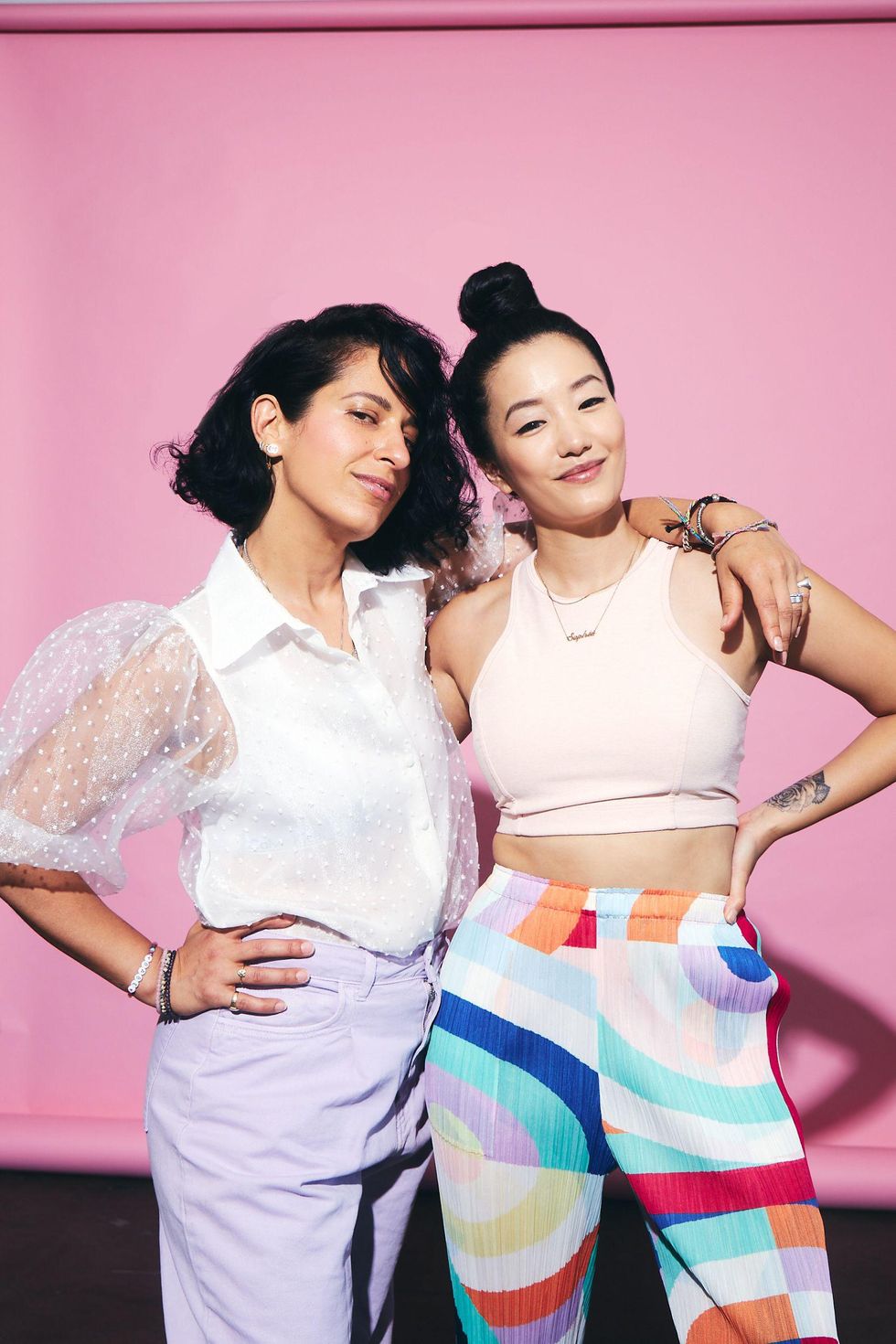 Photo: Brian Tampol
Who are your favorite small fashion brands of the moment?
SC: "I love Anna Kikue's accessories line and KkCo's sweatsuits ! LustCovetDesire is one of my favorite small-biz boutiques I often support."
RS: "KkCo, Online Ceramics, Tre Voci, Advisory Board Crystals."
What are the top five most-worn items in your wardrobe?
SC: As of late, Matthew Williams x NIKE camo vest, Reigning Champ sweat suit, KkCo Marble sweat suit, and…dare I say…CROCS! Oh, and some Illesteva Managuas or Mykita x Margiela's.
RS: "Madhappy sweats, ABC hoodie, Zara Baggy jeans (in nine colorways), Cotton Citizen long-sleeve t-shirts, Alyx Bomber."