"The Prue Acton dresses are worth between $200 and $300 and the dresses by Norma Tullo between $150 and $300, depending on the condition," says Jenkins, who singles out the most iconic pieces of a designer's career as being the most valuable.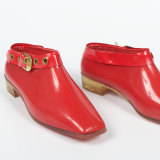 "It could be a garment that received a great deal of media attention when it was first released, or worn by someone famous," says Jenkins, who sees 60s Mary Quant designs as fetching among the best prices.
Jenkins has a much-prized orange blouse designed by Quant in 1968. "I found this piece in a vintage store in Mittagong," she says.
1960s designer clothing particularly appeals to those who did not live through the period. Among the most valuable are items that pick up on current fashion trends.
There has also been a revival of the Prairie-style dress, largely due to the label The Vampire's Wife, which was founded by Australian singer, songwriter, author, screenwriter, composer and occasional actor Nick Cave's wife Susie. These items feature a return "of the voluminous 'Bishop' sleeve," says Jenkins, who sees the most value in pieces that evoke a time and place.
Given the popularity of the 1960s and the move into mass manufacturing, most of the garments shown at the Mary Quant Bendigo exhibition have been worn. However, there are a few items, such as a lace mini-dress, originally found in a London attic, that are in mint condition.
"These clothes were often thrown out after a season or two. However, most people are holding onto these items now and seeing their true value," says Busowsky Cox.
Stephen Crafti is a specialist in contemporary design, including architecture, furniture, fashion and decorative arts.