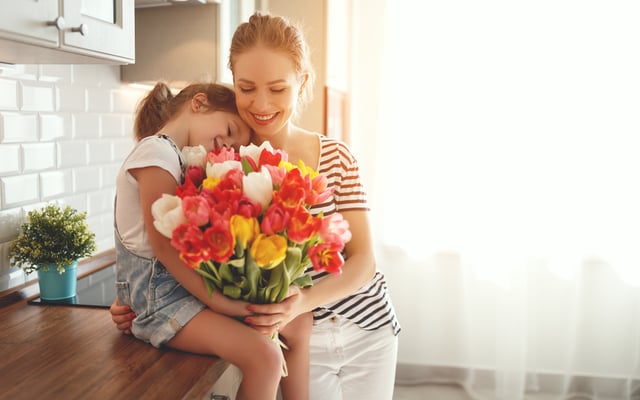 Great gift ideas for UK Mother's Day 2021
This article contains affiliate links. We may earn a small commission on items purchased through this article, but that does not affect our editorial judgement.
Whether you can't get to spend time with your Mum because of the current restrictions, or you share a home with her and can't do the usual of taking her out for afternoon tea or a cinema trip, odds are you may have to do something different to celebrate your Mother this Mother's Day.
Non-essential shops are still closed (likely until mid April) meaning you can't browse the shops for inspiration, either.
But not to fear – we've looked across myriad UK retailers to identify a range of thoughtful, fun, unique presents to suit the mother in your life, regardless of her interests.
From drinks to make-up, flowers to chocolate, books to clothes, there's something here for every Mum. Just don't forget to order soon – you'll be wanting to ensure it arrives in time for March 14.
Mum's Bright Mixed Roses
Reasonably priced and oh-so-pretty, you can order these M&S flowers in time for Sunday 14 March.
With 9 yellow roses, 8 white roses, and 9 orange roses, and a gift message. Thoughtful.

Buy now
Harvey Nichols Champagne & Luxury Chocolate Selection
Crafted by the champagne house of Lombard and Medot, Harvey Nichols' Premier Cru Brut Champagne is a a delightfully traditional drop. Rich, sophisticated, with flavours orchard fruit, brioche and hazelnut, it's ideal for a mother with refined tastes.
The accompanying chocolates are equally as accomplished – including Saffron Ginger Fudge, Coconut Truffle, English Toffee, Dark Truffle, Pistachio Truffle, Hazelnut Cluster, Honeycomb Diamond, Walnut Marzipan, Honey Caramel Truffle, Gianduja Truffle, Coffee Fudge and Raspberry Fondant.

Buy now
Bloom and Wild The Fisayo
Bloom & Wild are one of the best florists operating in the UK, crafting beautiful bouquets. Bloom and Wild The Fisayo is no exception, coming with 19 stems including roses, stocks, craspedia, sweet william, and bupleurum , all in bud, so they will bloom after arrival, lasting for at least two weeks.
Perfect for filling your mother's house with gorgeous colour and scent.

Buy now
Marks and Spencer The Beaulieu Hamper
They're a British institution for a reason, so you can guarantee Marks & Spencer will get things right. This handsomely presented picnic selection – contained in a wicker basket that will last her a life-time – ensures your mum has everything she needs for an indulgent feast, from delicious red wine, to chocolates and shortbread.
A bargain. We're tempted to buy another just for ourselves.
Contents: La Vita Sangiovese (75cl) (Alcohol Content- 12.5%)
British soft set raspberry jam (113g)
Apple and fig chutney (100g)
Collection Italian chocolate assortment (300g)
Milk chocolate single origin Dominican Republic 46% cocoa solids (100g)
Roasted and salted large peanuts (200g)
All butter Cornish Cruncher biscuits (80g)
All butter shortbread biscuit box (168g)
8 all butter Belgian chocolate chunk and hazelnut cookies (200g)
Presented in a dark-stained hand woven wicker hamper with brown faux-leather handle and strap

Buy now
Espresso Martini Pre-Mixed Cocktail 500ml
Smooth, strong, and with just the right hint of bitter chocolate, this pre-mixed Espresso Martini is ideal if your mother likes a sundowner that perks you as it relaxes you.
It's fiendishly good for a pre-mixed cocktail, all you need to do is pour-over ice and you're set.

Buy now
The Teatime Gift Box
Afternoon Tea on Mother's Day is a lovely tradition for many, but with cafes and restaurants still closed, making do at home will have to suffice – although you certainly won't feel hard done by sharing this delicious tea-time treat from purveyors of Britain's finest food stuffs, Fortnum & Mason.
Featuring their signature Royal Blend Tea, Summer Glory Preserve – delicious on toast, scones or crumpets – and all-butter Piccadilly Chocolate Pearl Biscuits, it will make for a delightful repast for the pair of you (or a feast for her, if she's still at a remove).

Buy now
Chase Original Potato Vodka
Reader, we were not enamoured of vodka until we tried Chase – then we were converted. This award-winning craft vodka, distilled from potatoes instead of grain, is so smooth George Clooney is jealous of it. With a creamy, light sweetness, it makes a exceptional martini.
Indeed, as previously devoted gin martini drinker, Chase has managed to single-handedly convert us to Bond's preferred recipe of a vodka martini. Tastes fabulous straight from the freezer with a dash of soda and lime, too.

Buy now
Hush Fitness Hamper
If you mum adores hitting the gym (when it's open) or lacing up her trainers for a 10k, she'll adore this gift set from Hush, which comes with both their stylish, sustainably sourced (and butter-soft) Atalanta gym leggings and their Clio gym vest.
She'll look and feel great. It also comes with a Green Bottle leak-proof reusable bottle, for keeping refreshed during cardio.

Buy now
Rosie Satin Floral Print Pyjama Set
Rosie for Marks and Spencer makes some of the loveliest, most reasonably priced nightwear on the high street, and this satin set is no exception. With a loose fit and a gorgeous floral pattern, it's ideal for weekends spent enjoying a lingering brunch and reading the paper – all in comfort and style.

Buy now
Women's Wonder Woman Fleece Socks
You may not be able to procure an Invisible Plane, but if you view your mum as a modern-day Wonder Woman, she may well love these cosy fleece socks. Based on the 80s incarnation of the comic book heroine, they'll put a spring in her step.

Buy now
Becoming – Michelle Obama
Michelle Obama was one of the most beloved First Lady's in US history, in addition to being an accomplished lawyer and human rights advocate herself. Her autobiography is wise, insightful, and full of empathy – with more than a few relatable anecdotes about the difficulties of being a working mother.

Buy now
Yo Glow Enzyme Scrub
If your mother is savvy when it comes to effective skincare, she'll adore Yo Glow Enzyme Scrub. This lovely product, which included AHAs, BHAs, papaya and pineapple enzymes, can be used three times a week – where it breaks down and slough away dead skin cells to reveal fresh, bright, more even skin underneath.
We've been using it for three weeks, and it hasn't inflamed our sensitive skin – but it has given us bouncy, glowing skin. Apparently after six months it really performs: we're excited.

Buy now
Emphasize Eye Design Palette by Kevyn Aucoin
Little surprise the shift in emphasis for beauty has been towards playing up the eyes, in this mask-wearing era. We've not found a better tool to assist us than the Emphasize Eye Design Palette by Kevyn Aucoin. These shimmering, foil powders have a hint of glimmer – but are never tacky.
We can apply as easily with our finger as with an eye-shadow brush, and they're richly pigmented colours that build to a smoky eye, despite our lack of artistry. No hint of causing irritation, either. So impressive.

Buy now
Kayala Elixir | 11
It can be slightly nerve-wracking purchasing a perfume for someone else, but we'd wager your mother will likely love Kayali Elixir|11, a heady but never heavy scent.
With sweet notes of red apple and rose petal, it dries down to reveal hints of rose centifolia and vanilla. Any notion of excessive sweetness is offset by a lace-work evocative jasmine. Addictive.

Buy now
Charlotte Tilbury Matte Revolution Lipstick
That said, if you are after a lipstick – this famous lipstick really does live up to the hype. The matte lippy adapts to the natural colour of your lips and the formula is so sleek it glides on effortlessly. It is light-weight and does not dry the lips out like other brands do.
It also lasts all day. Your mum will be delighted by the Art Deco gold packaging. Also – the lipstick bullet itself smells divine. 

Buy now
Songteller – Dolly Parton
She's donated over 1 billion books to children across the United States in the past forty years. She has consistently championed philanthropic causes. She's written some of the greatest country songs of all time, has a delightful a sense of humour and she wrote Jolene and I Will Always Love You in the same day.
There are few legends as remarkable as Dolly Parton and none of us could fail to learn something from her example. Her latest book, Songteller, explores her life through the lyrics of her song. Required reading for any serious music lover.

Buy now
Personalised Polka Gardening 1/2 Pint Mug
Emma Bridgewater, whose pottery is a British country kitchen staple, has a jolly gardening-themed mug in her bestselling range. Hand-stamped with trowels, forks and pruners, it can be personalised with your chosen name or text (one witty customer recently went for 'Fork off!', which we appreciate). Team it with the Good Gardening tea towel, £12, for a thoughtful and timeless gift.

Buy now
Photobox Photobook
Photobox make truly beautiful, hi-resolution photobooks (they drip with quality) compiled from your own photos, in whatever order you desire, with a range of quality backgrounds. They deliver swiftly, the quality is above reproach, and every recipient we've gifted a photobook to has been moved by the thoughtfulness. Compile your favourite shots of you and your mum: a guaranteed winner.

Buy now
Chipolo One Ocean Edition
It may be your mum doesn't care for frippery, instead preferring gifts that can be put to good use. Fair enough.
This handy Bluetooth tracker can be attached to keys, backpacks, purses and just about any other belongings that might be misplaced from time to time. Once the tracker is paired with a smartphone via the Chipolo app, it can perform a variety of functions to help locate the attached item, including sending a notification when it's left behind, and playing a tone at the press of a button within the app.
We found these features both easy-to-use and effective at finding our reviewer's perennially lost keys.
The design of the Chipolo One Ocean Edition is superficially similar to many other Bluetooth trackers: a plastic circle. But there's something different about this tracker – and the clue's in its name. The Chipolo One Ocean Edition is made from recycled ocean plastic, including material from used fishing nets. Plus, $1 from the sale of every tracker goes to the ocean clean-up organisation, Oceanic Global.

Buy now
Guess Cat's Eyes Sunglasses
Cat's Eye are a sunglass style that will always instantaneously vamp up an outfit, and this pair from Guess is a particularly sharp entry into the genre.
With UVA and UVB protection, these frames are guaranteed to stay stylish across seasons, if your mum is a woman who likes to look pulled together.

Buy now
Lily O'Brien's Desserts Collection 230g
When in doubt – chocolate, always chocolate. This collection from Lily O'Brien's transforms classic desserts into a chocolate mouthful. Includes Lemon Posset, Hazelnut Torte, Crème Brûlée, Banoffee Pie, Raspberry Infusion and Key Lime Pie. If she has a sweet tooth, she'll love this.

Buy now