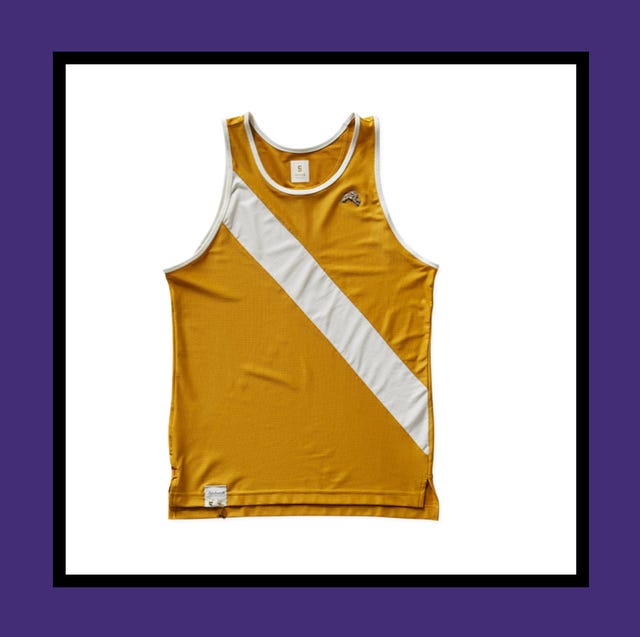 Famed for its collegiate aesthetic and premium materials, Tracksmith has always been a brand that runners in the UK have lusted after, knowing full well that committing to a purchase had some extra costs attached to it.
Tracksmith.com purchases are now duty-free and shipping has a £110 free-shipping threshold. Vat is also included in the product price, just make sure their location is selected as United Kingdom GBP at the bottom of the page.
Tracksmith are also offering a reduced base shipping rate of ~$10 USD and international returns are free, so you can buy knowing you can send it back for free if it's not right.
Below are some of the old and current range that we have tested and rate.
Advertisement – Continue Reading Below
1
Van Cortlandt Singlet
Tracksmith
tracksmith.com
US$65.00
Possibly Tracksmith's most recognisable piece of kit, the singlet with the stripe isn't necessarily just for race day, but if you're looking for a high performing, quality item so that you toe the start line feeling and looking sharp, this is for you. 
2
Tracksmith Hat
Tracksmith
tracksmith.com
US$38.00
A simple running hat to tame the mane and keep the sun or rain out of your face is something all runners should have at the ready and this take on the classic six-panel is smart enough for daily use too. 
3
Women's Session Shorts
Tracksmith
tracksmith.com
£62.00
It doesn't get comfier than these Tracksmith session shorts. Perfect for sessions where you're not running with your phone, the relaxed fit allows you to move freely and run fast. Made from the brand's lightweight performance fabric, there's nothing here to weigh you down. 
4
Merino Tube Sock
Tracksmith
tracksmith.com
US$18.00
Tube socks have somewhat fallen out of fashion in running with the influx of brightly designed, technical socks, but these classic tubes with a merino blend offer the best of both worlds. 
5
Reggie Half Tights Lined
Tracksmith
tracksmith.com
US$72.00
They won't be to everyones taste, but once you get over the cycling short look and pull these on for the first time, the degree of comfort these shorts offer will negate any feelings of self consciousness you may have. They're lined to help with that too. 
6
Van Cortlandt Long Sleeve
Tracksmith
tracksmith.com
US$75.00
This lightweight long sleeve is a great layer to have in your wardrobe all year round. We've worn it over a sports bra in the spring, and under a gilet in the winter and have been impressed by its breathability. It washes well, has a relaxed fit that allows for a full range of movement and comes in a number of different colourways. 
7
New England Overshirt
Tracksmith
tracksmith.com
US$198.00
Now this one is an odd one, bit bare with us. The idea of running in a shirt is not exactly commonplace, but this thing is tough and a great layer when it's cold. It looks great too, so meeting people after a run for a coffee (when we're allowed), can be a more stylish affair. 
8
Grayboy Tank – Amateur
Tracksmith
tracksmith.com
US$52.00
If you're going to buy one thing on this list, make it a Grayboy tank. Made from super-soft cotton, the vest feels soft against the skin, even when soaked in sweat. It also doesn't retain odour – something every runner loves to see. The tank has a flattering fit, with unrestrictive armholes and a higher neckline to protect you from the sun on warmer runs. 
This content is created and maintained by a third party, and imported onto this page to help users provide their email addresses. You may be able to find more information about this and similar content at piano.io
Advertisement – Continue Reading Below