There could be cash waiting to be unlocked in your wardrobe or in that old jewellery box under the bed. Stephanie Smith finds out what to look for – and how and where to sell it – from York-based antique expert Tim Hogarth.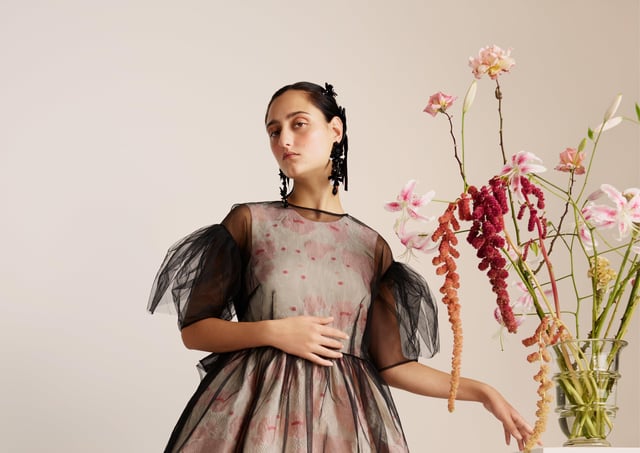 Future investment: Launched earlier this month, a dress from the Simone Rocha collaboration with H&M.
Most of us have clothes we have not seen in years, let along worn. Jewellery, too, and bags, stuffed in boxes, stashed under beds, shoved to the back of the wardrobe.
You might have inherited clothes or picked up something interesting at a charity shop, but then forgot all about them. But it is well worth digging them out because there might well be people prepared to pay good money for your cast-offs and wardrobe relics.
A regular on ITV's Dickinson's Real Deal, antiques expert Tim Hogarth owns the renowned Red House Antiques Centre in York. He has lots of advice on unlocking the hidden value in your wardrobe and jewellery boxes – and recommends it as a worthwhile and possibly rewarding pastime while we are at home in lockdown.
Look out for potential vintage finds. This was a Yorkshire Post fashion shoot with Rose and Brown Vintage in 2019 at Sunny Bank Mills in Leeds. Actor Rose Muirhead wears 1960s blue chiffon dress, worth £40, and 1980s gold Bruno Magli shoes, both from Vintage Beau. Picture: Tony Johnson.
"As an antiques dealer who's done some telly, the one question I am always asked is, how do I make money from antiques and collectibles?" he says.
Start with your wardrobe. "Take all the clothes out and put them on the bed, then make two piles – one for clothes that you want to keep and one for those you don't," he says.
"If there is a pair of brand jeans that you bought for around £100 but have never worn, then sell it as a bargain – 'was £100, now £20'. It's a high street marketing technique that works every time. Items like this can be listed on one of the many selling platforms such as Etsy, eBay, Facebook Marketplace and DeBop."
The items do not have to be designer, Tim says, as high street products can also hold their price well. "My wife recently sold an M&S military jacket for £45, that originally cost £150 and had never been worn," he says.
Up for auction earlier this month at Tennants in Leyburn, North Yorkshire, a selection of late 20th century clothing including pieces by Robert Dorland, Christian Dior, Hermes sport Paris, Frank Usher and Jean Muir. Estimate £150-£200. Tennants offers valuations of jewellery and clothing and buyers can bid online at www.tennants.co.uk.
"The next best thing to a vintage designer piece is a collaboration piece, where a top designer has worked with a high street brand. These items sell for a limited time on the high street so still hold some value when you sell them online."
If you are lucky enough to own a designer handbag, perhaps by Chanel, Hermes, Mulberry or Gucci, a good pre-owned original bag might even command more than the modern equivalent, says Tim. "Also vintage items from the 1950s to the 1980s by the big name fashion designers – you may be in for a windfall of cash. For example, a YSL Rive Gauche ladies' tuxedo dinner jacket from the 1970s can sell for upwards of £1,000."
Now for a rummage in the jewellery box. "You might find some costume jewellery, or fashion jewellery, which is made from a base metal as opposed to gold or silver and adorned with colourful simulated stones," says Tim. "The value of the item depends on the style and the designer brand and this type of jewellery is highly regarded within the antique and collectors world."
Tim points out that designer names including Dior, Chanel, Trifari, Miriam Haskell and YSL all made huge signed costume jewellery ranges from the 1950s to the present day. A pair of Miriam Haskell gilt earrings can be worth between £80 and £100. Trifari brooches can sell from anywhere between £10 and £100s.
CASH IN THE CLOSET: The M&S x Ghost collaboration launched last year. Dress, £79, from a selection now in sale.
"Remember, the big flashy-looking brooches, necklaces and bracelets command the most value so just keep thinking that dazzling equals dosh." There are various ways of selling them, says Tim. "Like me, you can list your items on Ebay, Etsy, Instagram or, when we are allowed out again, pop along to your local auction house. However, be aware that selling at an auction can incur costs of up to 25 per cent."
Do not give up if you do not find designer-signed gems in your jewellery box because non-signed items can still sell well, from £10 sometimes up to £100s. "You can sell these individually or create what we call in the trade a 'parcel'," he says. "This way the buyers see the value of getting multiple items for one price."
Tim's tip when posting on online selling sites is to use the tag line "contents of jewellery case" and take some good photos to accompany your listing. "You will be surprised how well that will sell," he says.
It might also be time to take a look at your old gold jewellery, the pieces that you no longer wear. Tim says: "Gold is always guaranteed to sell, and yes, it's literally worth its weight. The price of gold is called the fix and there are gold fixes twice a day, trading in dollars. Prices printed in newspapers are for fine gold [24 carat] and will show the value of 1oz [31.1g]. The condition is irrelevant as broken chains, rings with missing stones, odd earrings are literally cash just lying there in a drawer."
Classic high street pieces such as this military style jacket from a recent Marks & Spencer collection can hold their value if sold in good condition later on at secondhand fashion or auction websites.
Sort your gold into carats, and then contact your local jewellery shop and ask them what they are paying, says Tim, adding: "If your local dealer can't give you a price, steer clear. Remember, the dealer is in the business of making money. Most reputable dealers will work on a small margin, normally at £1 per gram."
Old silver items too are well worth hunting out. "Silver-topped jars and bottles, mirrors and brushes that have been sitting on that old dressing table for years are an easy way to release cash," says Tim. "Enamel ones command much more. Perfume bottles are always a good seller with an active collecting market for the better or rarer pieces. All English silver items carry a hallmark often on the side of the item. Look for a lion and a series of other boxes that will be the date, letter, town and maker's mark and sometimes a monarch's head."
Stylish Art Nouveau and enamel perfume bottles are the most coveted, and look out for ones with gold tops. "The more unusual the better, but you could literally have hundreds of pounds just gathering dust," he says.
So get treasure hunting. You might be richer than you think.
* Tim is happy to help readers decide if their treasure is valuable. Tweet him at @TimHogarth. The Red House Antique Centre is at Duncombe Place in York and at www.redhouseyork.co.uk.
York-based antiques expert Tim Hogarth, star of Dickinson's Real Deal on ITV.
Launched earlier this month, denim jacket and jeans from the Lee x H&M collaboration at H&M.