Never in a million years did I think I would use the words businessman to describe myself, leave alone as an entrepreneur. 
But with the upheaval and uncertainty I've overcome in the past couple of months, I wear that title of Nairobi Businessman with pride and as a badge of honour.
You see, I lost my job; No, I was fired; No, I was forcefully transitioned into unemployment from a well-paying job. No warning. No signs. No preparation. Nothing. The last picture I had of the place I gave the best years of my life was a locked door and a very brief email signed with "best regards."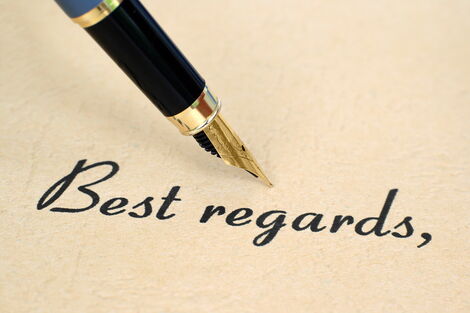 Best regards
Having a young family to take care of only exacerbated the dire situation I was in. Fast forward to 30 seconds after it dawned on me what had happened, I realized that I needed to get my act together, if not for me but my two lovely ladies; my wife aka 'Madam Secretary' and our little 4-year-old helper.
We started having strategy meetings with my wife over what we were going to do. She still had her job but her salary had been halved and suddenly she went from balling on a budget to barely living – she'd hit me every time I would use lazy comedy to lighten our gloomy situation.
From our brainstorming sessions, which at first consisted 90 percent of listening to motivational speeches, we landed some ideas. 
Our first and most practical business to go for was an online shop where we would sell clothes, marketing our brand as the most affordable in the market. My wife, the keen planner, took meticulous notes. In her mind this was the beginning of our comeback story.
"Madam Secretary" I'd tease whenever she put her poker face on. 
"Shut up," she'd lash back.
Sourcing for the items was the hardest part. That was until preparing the clothes became the hardest part and the bookkeeping bit…that was easy- mainly because my wife had that on lock.
Days into it, our Facebook and Instagram pages went live. Didn't take long for the biz to pick up, with some captivating pictures, captions with prices attached and a few sponsored posts.
When I say, we went all in, I mean ALL IN! We did everything. Social media, customer care, sourcing,  deliveries – even to those out of town ones – who could only pay with their Visa Cards. An observation I made is that most had Co-op Bank Visa Cards. Being an account holder, that was an easy ice breaker as we waited for the receipt to be processed.
"Umesikia ile offer mpya ya Co-op, itakusave dooh!"
Shopping? Paying your bills? Making that fees payment? No worries, Co-op Bank has just the thing for you. With the Co-op Visa card, the world is your oyster. Tick off items from your to-do list at no extra cost.#PayWithCoopATMCard
ADpic.twitter.com/kYZFKSGzuI

— Kenyans.co.ke (@Kenyans) February 19, 2021
And yeah, I became that guy who walked around town with a heavy bag and a PDQ reader in the back pack.
There's a fulfilling feeling that accompanies giving someone a receipt. The assurance that money has indeed entered my account – is a satisfying feeling. 
We were selling everything from gents wear, to jewelry and even baby wear and going by the fact that most of the clothes were targeting the fair gender, I already had two beautiful models on retainer.
With so many sales, our next plan was to expand… So we got a small stall in town as an extension of the online store.
On one afternoon while replying to customers' queries on Facebook, I came across a consignment of clothes coming from Europe – this was after the government had lifted the importation of the mitumba clothes.
A deal too good to pass on….The prices were ridiculously low and clearing such a stock would earn us a clean Ksh200K after an initial investment of Ksh500K – which was all our savings at that point.
On the one hand, I'd be a fool to let this opportunity pass us, but I would also be a fool if I fell for a scam.  
So I made the phone call on the number provided just to get more details. A lady with a unique voice answered and went right on to explain to me that it was a clearance sale and I'd have to pay in advance to get the goods delivered. And she insisted that it would not last long.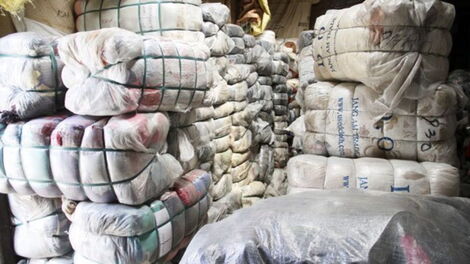 Unopened bales of second-hand clothes.
File
She told me her colleague would guide me on how to get the wares. We ended on a note that I would think about it.
So far, so good, no red flags. Until the following day. Bak Bandika Bak Bandua…The calm assuring voice that I had associated with the business was replaced by a raspy one of a man urging me to send money.
All I got was "High quality, Europe, Asia, very cheap and pay now,"
"Where are we sending to?" I tried to inquire but all I got was "Tuma kwa hii number!"
The guy never let me breathe with persistent messages and calls to 'Send the money" 
Surely, hata kama ni bei ya jioni – you have to take someone slowly.
I never really knew where they were operating from – they were that cagey. So I did not even know they were sending the package from where – for all i know, it could have been transported right from my neighbours house to my location.
And payment on delivery was not an option no matter how many times I suggested.
At one point the guy sent me a picture, "I am at the courier place, send the money now, nikutumie bidhaa zako," 
For some reason, I was compelled to send the money, just a few presses on my phone, the transaction would be complete with mobile banking.
At the last minute, madam secretary who had just stepped in with lunch grabbed my phone from me "Don't you dare!"
She was for a more methodical approach and she had a sixth sense about scams.
Weeks later, we opted to increase our stock volumes, that incident had set off some adrenaline in me that made me feel ready to take on more. To make things better I got a reliable supplier of the bales, he did payment on delivery and I got to inspect the package before handing over the cash.
We bonded on the first delivery when he removed his PDQ reader from his bag and smiled when he saw my Co-op Visa Card.
"Kila mtu anatumia hii kila siku" we chuckled and I dropped by the famous line "Na umeona offer zao mpya?"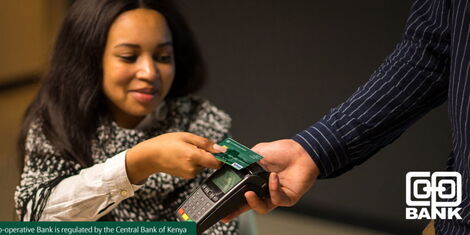 A Co-op Bank customer using their Co-op visa Card during payment