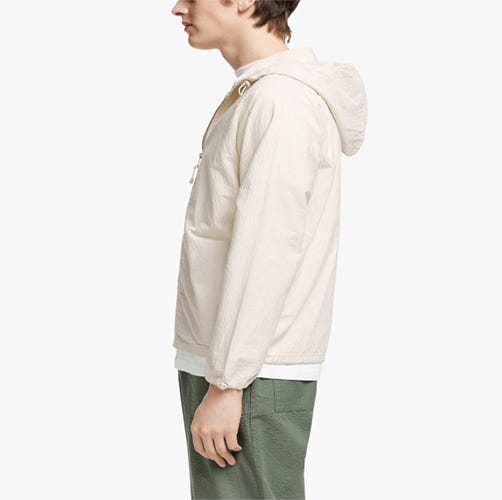 John Lewis
You don't need to break the bank to build a solid menswear rotation. Yes, cash helps. And yes, a lot of that cash goes towards the well-curated websites and stores that make for such a pleasant shopping experience. But what if you haven't the time or the inclination to rail raid each store for the bargains that'll last?
You consult us. For each week, we'll be searching high and low for menswear priced at the lower end that still go packs a punch. And, during These Unprecedented Times, it's understandable that many guys would prefer to beef up the financial stockpiles rather than blow it all on a pair of very current (but very expensive) hype trainers.
Here's all the best gear out there for under £50.
Advertisement – Continue Reading Below
1
Les Basics
SHOP
Nerdy anorak, but French and cool and well-fitting, which makes it less nerdy, which makes it an essential from one-stop staple outfit Les Basics.
Le Track Jacket, £50, johnlewis.com
2
Adidas
SHOP
Seventies, but on the comfier, less flammable side, Adidas pays homage to its long and winding history with a three-stripe sweatshirt in a wearable (but fun) shade of forest green.
Three-Stripe Crew Sweat, £45, endclothing.com
3
Uniqlo
SHOP
You can never have too many navy trousers, you can never have too many navy trousers, you can never have too many navy trousers.
Smart Cotton Navy Trousers, £34.90, uniqlo.com
4
Everlane
SHOP
The crossbody bag is the unlikely hinge between roadmen and fashion week poseurs. But in a simpler, cleaner shell from Everlane, it's now for everyone else too with the bumbag 2.0 on the cusp of becoming a new classic. Helps that it's made from 100 percent recycled polyester.
ReNew Transit Bag, £27, everlane.com
5
Kin
SHOP
It's not every day you can clinch cotton blend fabric from an Italian mill for under £50. In fact, we can't think of another day when such a thing has happened. Thus, it's your lucky day via the good folk at Kin, who've slashed this olive suit to a third of its original price.
Ottoman Tailored Blazer, £44.70, johnlewis.com
6
Kin
SHOP
And the matching trousers, because you'll be needing them for the 19 weddings that've been pushed to next summer.
Ottoman Tailored Trousers, £24, johnlewis.com
7
Everlane
SHOP
So confident is Everlane's 'uniform' range, that the label offers a full 365-day guarantee in case it doesn't match up. Which it will, with this Oxford shirt made of robust and respected Japanese fabric.
Japanese Oxford Shirt, £48, everlane.com
8
Samuel Windsor
SHOP
Loafers and leather aren't two words you see under the £100 mark, let alone the £50 one. But Samuel Windsor has managed to craft affordable shoes that are every bit as classic and functional as its formal contemporaries on the top shelf.
Classic Kempton Shoe, £42.50, samuel-windsor.co.uk
9
Carhartt WIP
SHOP
Carhartt WIP: made for actually workers that need workwear, and worn by everyone else not on a field in New England too. The humble beanie is your most trusted tool.
Black Beanie Hat, £19, endclothing.com
10
Mango
SHOP
Detachable hood, fully quilted, and absolutely functional. Better yet, it's absolutely OK, with outdoor-geared clothing finally given the light by fickle menswear trend. Helps when it's affordable, too.
Quilted Coat, £45.99, mango.com
11
Napapijri
SHOP
A logo that's come to earn much cachet in recent years, Napapijri provides functional clothing your friends will recognise (but struggle to say out loud).
Sox Box Logo, £29, endclothing.com
12
Weekday
SHOP
Overshirts work best in a time of unexpected weather. And in Weekday's Ahmed design, a heavier linen fabric makes it your MVP, as it can slot even easier with all the other staples in an autumn rotation.
Ahmed Linen Overshirt, £45, asos.com
13
Fred Perry
SHOP
A cultural icon proper, Fred Perry's tartan scarves have enough heritage to be a menswear go-to proper, but remains quiet enough to slot with absolutely everything else on this list.
Black Watch Tartan Scarf, £45, endclothing.com
14
Albam
SHOP
Ask an insider for a good, solid British menswear brand, and they'll say Albam. And at good, solid British retailer John Lewis, the workwear-ish marque is available at a little bit less than the usual. Which means you should take advantage. Now.
Utility Cotton Factory Jacket, £48, johnlewis.com
16
Mango
SHOP
Straight leg, comfortable, standard blue, a bit like your dad's denim: sounds boring. Though in 2020, jeans are your building block not a talking point, and Mango knows that best with a fit that ticks all the boxes.
Regular Fit Bob Jeans, £35.99, mango.com
17
Puma
SHOP
Puma makes archival, respectable, retro trainers that point to a long and esteemed history in the business. Puma is now offering them at a fraction of the usual price, too.
Caracal Trainers, £37.95, puma.com
18
Topman
SHOP
Off the hanger, Topman's wide leg trousers can look a bit, well, wide. But on, these high-rise affordable denims are a comfortable, straight down fit that don't edge into MC Hammer territory. You can touch this.
Black Relaxed Fit Jeans, £34.99, topman.com
19
CDLP
SHOP
Thanks to an eco-friendly bamboo yarn, CDLP's socks are the sort you pull on and go "ooooh". And, with bigger discounts given to bigger multipacks, such wanton satisfaction can be a daily thing.
Bamboo Socks, £18, cdlp.com
20
Everlane
SHOP
When Everlane says forever, it means it, OK?! These recycled, fully recyclable trainers won't walk out on you. They won't lose their sole when things get tough. They'll be there, and that's all you can ask for in this life.
Forever Sneaker, £46, everlane.com
21
Arket
SHOP
Summer isn't over just yet, but those short sleeves could do with a growth spurt. Arket, king of reasonably attainable wardrobe staples, should be first choice with a range of long sleeved T-shirts in various colours proving the best battle armour for the season ahead. Oh, and it's organic cotton too. Lovely.
Organic Cotton T-Shirt, £39, arket.com
22
Columbia
SHOP
Facts are fact: you will probably get more use out of a black tote then almost anything else in your wardrobe. That means you need it to last, to withstand the endless floors it's slammed against, and Columbia's is the toughest of the lot. It's also one of the best-looking.
Unisex Light Black Tote, £30, columbiasportswear.co.uk
23
Mr P.
SHOP
Tie-dye just too much? We strongly disagree. The secret is to simply tone it down to the right volume instead, as Mr Porter's in-house label so deftly proves with a colour pop pair of socks.
Tie-Dyed Socks, £27, mrporter.com
24
Patagonia
SHOP
Menswear's favourite pro-climate hiking brand is still hot property, and the P-6 baseball cap is good-looking, and good-hearted: each piece is made in Fair Trade Certified conditions from organic cotton.
P-6 Label Baseball Cap, £35, endclothing.com
25
Mango
SHOP
Finding good denim is hard. Finding good denim on a budget is even harder. But with Mango's medium wash, well-fitting jacket, the Spanish outfit has managed to clinch both, and we're forever in its debt (not actual debt though, because its actually affordable).
Medium Wash Denim Jacket, £35.99, mango.com
26
Champion
SHOP
Exclusive to Mr Porter, Champion's no-fuss, easy-to-wear T-shirt comes in an array of ice cream parlour shades. So if baby pink isn't to your palate (it should be, by the way), then enjoy a scoop of blueberry, orange or lemon.
Logo Embroidered T-Shirt, £40, mrporter.com
27
Everlane
SHOP
The quest for the perfect grey sweater is over. And it is Everlane, the US one-stop-menswear-staple-shop that has bestowed you with a comfortable, structured terry towelled grail. Wear it well, Sir.
French Terry Sweatshirt, £42, everlane.com
28
Nike
SHOP
Activewear is sportswear is everydaywear. Yes, the barriers between purpose-built clothing remaining in context are gone, meaning these Nike Heritage shorts are more than acceptable for the days you're not on a morning run (which can be everyday).
Windrunner Shorts, £45, endclothing.com
29
Arket
SHOP
Nothing says a long preppy summer like an Oxford shirt, and Arket's exhaustive carousel – whites, greys, greens, pinks, blues and so on and so forth – are an excellent, cost-effective place to start.
Shirt 3 Oxford, £45, arket.com
30
Zara
SHOP
Baggier trousers, while enduring, can be divisive. So thank Zara for nailing the perfect inch-to-leg ratio by giving a little breathing room without going full Madness. They're made from reclaimed cotton waste too, which is always good.
Pleated Textured Trousers, £49.99, zara.com
31
Deus Ex Machina
SHOP
Try as crossbody bags might, the humble tote isn't going anywhere. In fact, as motorcycle maker-turned-ascendant menswear thing Deus Ex Machina proves, its still a worth vessel for one-step-aheadness.
Classic Logo Tote, £30, asos.com
32
Asos Design
SHOP
Full Seventies regalia might be too big a move for your wardrobe. That's alright. Just go full Seventies regalia on your shades instead with some softcore director aviators acting as a safer stand-in to flares and velvet two-pieces.
Brown Grad Aviators, £8.40, asos.com
33
Armor-Lux
SHOP
Ooh la la monsieur, your Breton stripe is from where? Armor-Lux? Ah yes that very French, very great brand from Brittany that puts a gallic spin on nautical menswear. C'est bon.
73792 Mariniere Tee, £45, endclothing.com
34
Dickies
SHOP
Shorts that'll work as hard as the grafters they're made for, Dickies straight up pieces can easily shrug off the travails of your cruel summer.
Slim Straight Work Short, £45, dickieslife.com
35
Birkenstock
SHOP
OK, OK: the much-loved leather Birkenstock is just a few pounds beyond the remit of this humble summer dressing edit. The Arizona sandal in EVA is not though, and it's design means you can chuck it in the washing machine after every single hazy afternoon in a beer garden.
Arizona EVA Black Sandals, £35, birkenstock.com
36
Serge Denimes
SHOP
Though known for a particular strain of rune-like, rugged jewellery, Serge Denimes offers quieter pieces too like this signet ring with the brand's very Arthurian looking coat of arms.
Crest Signet Ring, £50, selfridges.com
37
Nike ACG
SHOP
So cool is Nike's ACG offshoot (shorthand for 'All-Conditions Gear') that it often loses the big brand precursor in menswear vernacular. "That ACG?" they'll ask as you stroll past, sky blue T-shirt on and glass of natural wine in hand. "Yes," you'll reply. "Yes it is."
Sky Blue NRG T-Shirt, £35, mrporter.com
38
Novesta
SHOP
Canvas, with its flimsy material, may not seem that summerproof. But in the hands of Slovakian brand Novesta, it makes for ideal sneaker material thanks to a classic design you can throw in and out of the washing machine following each and every hazy, slurry park visit.
Star Master Sneaker, £49, endclothing.com
39
Spitfire
SHOP
In sunglasses, one size does not fit all. Spitfire comes pretty close, though, with the affordable brand following suit on the big boy lens trend within an angular shape that'll complement your razor-sharp cheekbones (or give the impression that you always had them in the first place).
Block Chain Sunglasses, £39, asos.com
40
Vans
SHOP
Vans has been a West Coast staple for every other coast ever because they're low fuss, low effort but big on menswear kudos. You don't even need a skateboard these days, to be honest.
Authentic Black & Black Sneakers, £49, endclothing.com
41
Craftd London
SHOP
No, a normal person from a BBC smash hit about Normal People didn't launch the gold chain into a new summer essential. It has always been cool. And, with Craftd London – a label that creates gold-plated jewellery for every sort of magpie – you can get one at a fairly normal price.
Figaro Gold Chain 3mm, £24.99, craftdlondon.com
42
Massimo Dutti
SHOP
Turns out you can enjoy that planned summer on the Amalfi Coast (socially distanced, of course), and right on cue, native outfit Massimo Dutti has released summer shirting best-paired with a fifth Aperol and a basic grasp of Italian.
Sky Blue Linen Shirt, £49.95, massimodutti.com
43
M&S
SHOP
It's appalling, really, that some situations demand actual proper trousers in summer. But such is the law. So, when they're enforced, opt for M&S's super lightweight chinos: breezy, boxy and a big well-ventilated middle finger up to the powers that be.
Super Lightweight Regular Fit Chinos, £39.50, marksandspencer.com
44
Adidas
SHOP
This is as classic as a pair of Adidas trainers get, with the suede VL Court 2s proving a much visited chapter in the brand's archives. Pair with shorts and T-shirts and expect lots of wear from the no fuss silhouette.
VL Court 2 Trainers, £45, sportsdirect.com
45
Arket
SHOP
The best sort of swim shorts work on dry land too, and with an option in almost every colour known to man, Arket's conquered your ultimate pool get-up.
Swim Shorts, £45, arket.com
46
Adidas
SHOP
The OG pool slide, no lukewarm poolside beer is complete without the Adilette which has remained largely the same ever since its 1972 release.
Adilette Aqua Slides, £17.95, johnlewis.com
This content is created and maintained by a third party, and imported onto this page to help users provide their email addresses. You may be able to find more information about this and similar content at piano.io
Advertisement – Continue Reading Below