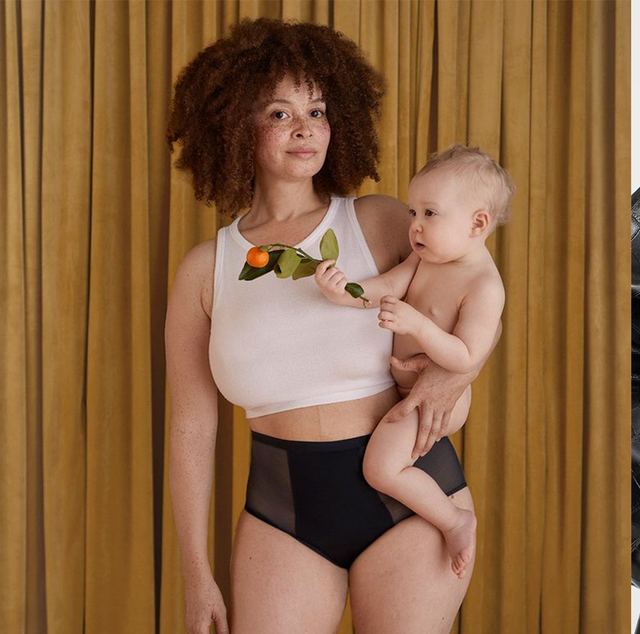 Courtesy
Right after you give birth, your body is in flux. You may be gaining or losing weight, recovering from surgery, or just generally getting to know your body's changing shape—all of which can leave you feeling unlike your regular ol' self or even generally out of whack. So I don't blame you if shopping for your body in postpartum sounds intimidating or exhausting. (You just birthed an entirely new human being, after all!)
Shopping for postpartum clothes is different from shopping for maternity clothes, there's a lot of additional stuff to think about because your body is healing and you may be starting to nurse your child. For this reason, pants should be extra-comfy (i.e. stretchy and soft) and ones that provide tummy support are going to be key, especially if you've had a C-section. Undies should be absorbent or offer extra room for pads. And it is great if tops and dresses provide easy access for breastfeeding. (It also helps if all these clothes are actually cute.)
Whether you're a new mom or you've been through this before, we've rounded up a capsule of must-have postpartum-specific clothes—from cozy robes to supportive undies and nursing tops that aren't so…obvious. Shop them all, below.
Advertisement – Continue Reading Below
1
This Wrap Sweater
Recycled Cashmere Soft Wrap Sweater
This cashmere wrap sweater is great for nursing—not to mention, it would seamlessly transition into your post postpartum wardrobe, too. 
2
These Tummy-Hugging Leggings
Highwaist Postpartum + Nursing Support Leggings
BLANQI
shopbop.com
$64.00
These super soft leggings were designed specifically for women in postpartum, meaning they feature gentle midsection compression for extra support.
3
This Discreet Nursing Dress
Lily Flutter Sleeve Maternity Midi Dress
LOYAL HANA
nordstrom.com
$150.00
You'd never guess this dress is breastfeeding-friendly. Try and spot the quick-access hidden zip on the bodice—you won't. 
4
These Super-Stretchy Jeans (With Elastic Inserts!)
good mama side inserts
If you insist on wearing jeans after having given birth, kudos to you. Good American's line of maternity jeans is a great place to start for ultra-stretchy, comfortable denim.
5
These Beyond-Comfy Trousers
French Terry Pleated Front Pant
Pleated pants that are secretly lounge pants? Score! These are a must for postpartum life, especially if you're looking for something a little more "dressed-up."
6
This Wrap-Style Nursing Dress
MAMA Cotton Nursing Dress
Don't let the ultra-flattering wrap style fool you. This, here, is a nursing-friendly dress that provides hidden access and modest coverage.
7
This Super-Chic Jumpsuit
Francesca Maternity/Nursing Jumpsuit
NOM MATERNITY
nordstrom.com
$128.00
Praise be! A one-and-done outfit that's breastfeeding-friendly.
8
These High-Waisted Leggings
Snapback Postpartum Leggings
PREGGO LEGGINGS
nordstrom.com
$44.80
Here's another pair of postpartum leggings with supportive midsection compression, except this time featuring trendy camo print.
9
This Nursing Sports Bra
Seamless Yoga Nursing Bralette
MODERN ETERNITY
nordstrom.com
$30.00
With this sports bra that's made for nursing, you can say no thanks to wearing a real bra ever again. 
10
This Cozy Long-Sleeve
MAMA V-neck Nursing Top
Not only is this nursing top super-flattering, it'll also go with nearly anything in your closet.
11
These Absorbent (And Cute!) Undies
Postpartum Set
These super-absorbent undies were made specifically for women in postpartum. Plus, they're v cute.
12
This Easy-Breezy T-Shirt Dress
The Luxe Cotton Side-Slit Tee Dress – Faded Sage
everlane
everlane.com
$50.00
Comfort is key when it comes to dressing for your body in the postpartum period, and this easy cotton dress provides exactly that.
13
This Lace Nursing Bra
Feathers Underwire Contour Maternity/Nursing Bra
NATORI
nordstrom.com
$68.00
A nursing bra that's still a little spicy? Yes, please!
14
These Forgiving Joggers
Maternity Fold Over Joggers
Finally, a pair of joggers that don't have a drawstring waistband. Again, it's all about comfort, here.
15
This Matching PJ Set
Analise During & After 5-Piece Maternity/Nursing Sleep Set
EVERLY GREY
nordstrom.com
$49.99
This pajama set comes with a little matching gown and hat for your newborn bb. *Cue: ugly cry.*
16
These Adjustable Undies
Postpartum Recovery Support Panty Shaper
Leonisa
amazon.com
$35.00
Here's a pair of postpartum undies with an adjustable belly strap that'll fit your tummy at a variety of sizes.
17
This Chic Robe
Selamawit Short Robe
lemlem
lemlem.com
$395.00
Shopping for a little treat yoself gift? Here's a comfy robe that'll go easy on your recovering body.
18
This Secret Nursing Hoodie
Jojo Maternity/Nursing Hoodie
NOM MATERNITY
nordstrom.com
$88.00
You'd never guess this is a breastfeeding-friendly top, thanks to the hidden nursing panel.
This content is created and maintained by a third party, and imported onto this page to help users provide their email addresses. You may be able to find more information about this and similar content at piano.io
Advertisement – Continue Reading Below