If you have psoriasis, you may put a lot of thought into the clothes you wear. Maybe you strategically choose pieces that cover up affected areas of your skin or ones that make you feel your best. But perhaps the most important reason is the fact that what you wear can keep your skin happy or lead to a flare-up.
Psoriasis — a skin disease marked by red, itchy patches of skin covered with silvery scales — tends to come and go in cycles, going from remission to flaring again if something sets it off, according to the Mayo Clinic. Certain types of clothing can sometimes be the trigger.
The general recommendation is to avoid tight-fitting clothes, because they may irritate the skin, says Lisa Anthony, MD, a board-certified dermatologist at Westmed Medical Group. That might sound like a problem, because that eliminates most popular styles of workout clothing — but don't let that keep you away from exercise.
"Regular exercise is not only a great way to de-stress and build confidence, but it will improve heart health," Dr. Anthony says, adding that people with psoriasis are at increased risk of cardiovascular health problems.
You'll just need to be strategic about how you dress for your workouts. Here's a guide to choosing the best workout clothes when you have psoriasis, including general tips on what to look for and a few specific pieces that fit within those guidelines.
Tip
No matter what you decide to exercise in, be sure to wash your workout clothes in detergents that are gentle on the skin. "Laundry detergents that are fragrance-free and dye-free are recommended to reduce the risk of irritation," Dr. Anthony says.
The Best Workout Tops When You Have Psoriasis
When shopping for workout tops, you'll want to avoid tight, form-fitting styles if you can, because they can rub against the skin and lead to irritation, Dr. Anthony says. "Looser-fitting clothing will reduce friction and trauma to the skin," she says.
1. JoyLab Women's Tie-Back Active Tank Top
This loose-fitting tank from Target's activewear line features an open back, which amps up the breathability and minimizes contact between the fabric and your skin. We also love it for its affordable price and punchy style.
2. Outdoor Voices Ready Set Shortsleeve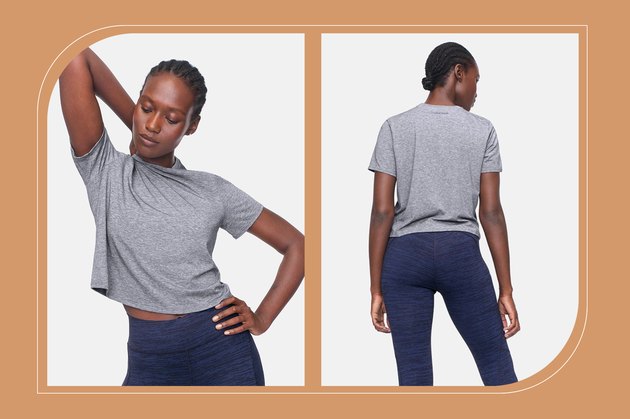 This Austin-based brand offers a full line of gear designed to get you moving. To start, go for this versatile tee. Its boxy fit and slightly cropped length keep the air flowing. Plus, it's made out of OV's Sweatee fabric, a performance cotton with sweat-wicking properties.
3. Zella Splits Ribbed Tank
Because a loose fit is the way to go, this racerback tank from Zella is another good addition to your workout wardrobe.
Pro tip: Choose the white color instead of black — Dr. Anthony says wearing light colors will minimize the appearance of flakes.
The Best Sports Bras When You Have Psoriasis
It's hard to get away from a tight fit when shopping for sports bras. So focus on fabric instead. Some materials, such as synthetic fabrics and wool, can cause skin irritation and thereby a psoriasis breakout, Dr. Anthony says.
"To minimize skin irritation, choose cotton fabric that is more breathable or a performance fabric that reduces irritation from sweat and moisture," she says.
1. Splits59 Bianca Techflex Bra
Andrea Fornarola, CPT, ACE, an AFAA-certified fitness instructor and founder/CEO of Elements Fitness Studio, loves this line for her sensitive skin.
"The comfortable sports bras are supportive but don't have the uncomfortable, heavy elastic bands," she says.
This bra also features flatlock seams that minimize chafing — a definite plus for psoriasis skin.
2. Athleta Ultimate Printed Bra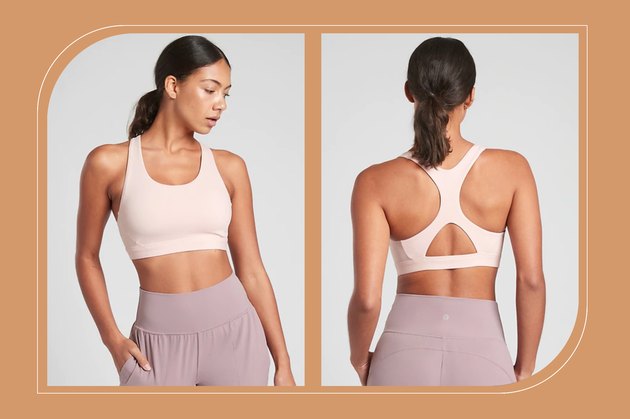 Look for the SuperSonic fabric from this Gap-owned brand — it's designed specifically to wick sweat away from the skin and dry quickly to keep your skin fresh.
You've got a few options if you're sticking to light colors, including orchid pink, white and oasis blue. Plus, you're bound to find a size that fits your body — this sports bra is available in size XXS to 3X.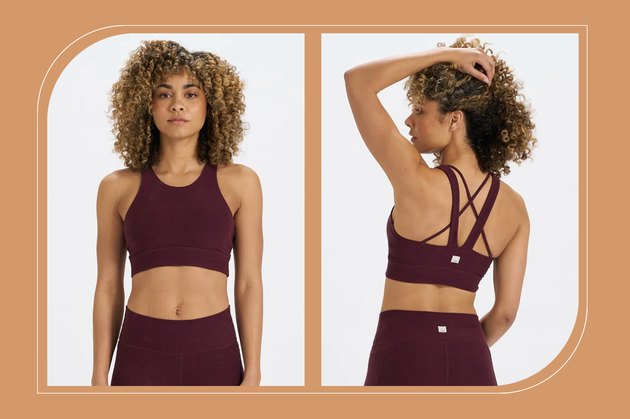 The Elevation Bra from this California-based brand offers a supportive fit that'll keep up with even your most intense workouts. It's also made with a moisture-wicking material and scores style points for its high neck and strappy back.
4. lululemon Like a Cloud Bra Light Support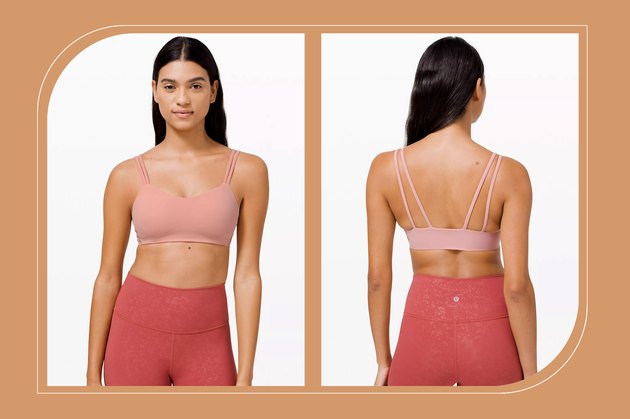 If the day is calling for a lower-impact workout like yoga, consider this light-support sports bra from lululemon. This bra features four skinny straps, which is an on-trend design choice and also a good choice for those with psoriasis because it leaves lots of space for skin to breathe.
The Best Workout Bottoms When You Have Psoriasis
You'll want to follow all the same advice when shopping for workout bottoms: breathable fabrics and loose fits will minimize the risk of flare-ups.
1. lululemon Hotty Hot Short High-Rise Long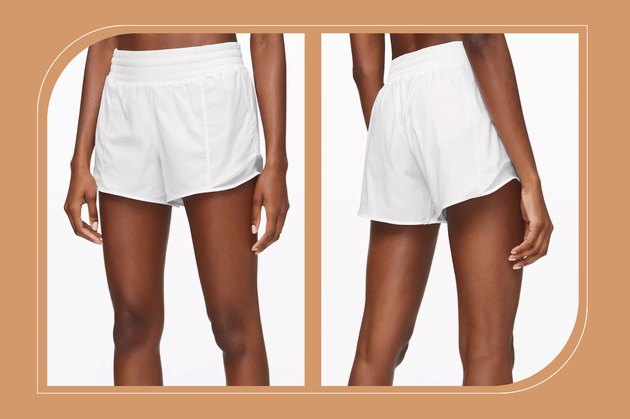 These four-inch shorts (also available in a shorter style) feature the Canadian retailer's lightweight Swift fabric, which combines stretchiness, sweat-wicking properties and mesh side panels for extra ventilation.
2. Athleta Salutation Stash Pocket II 7/8 Tight
Fornarola turns to Athleta for the brand's "really comfortable high-waisted leggings that stay in place and breath as your body heats up and cools down."
This style features the brand's super-soft Powervita fabric and side pockets beneath the hips for storage.
3. Nike Dri-FIT Attack Shorts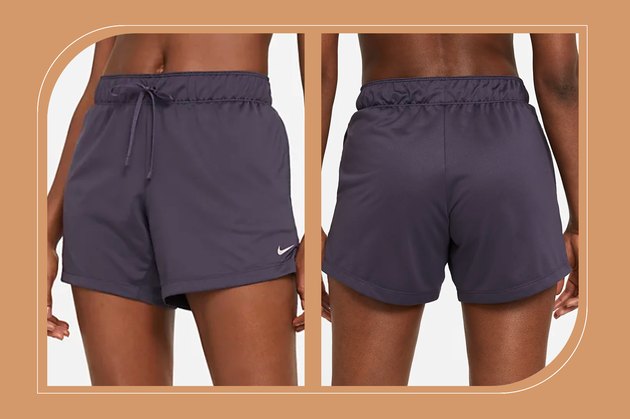 The lightweight, sweat-wicking material on these Nike workout shorts gives you room to move — and your skin room to breathe.
​Buy it:​ Nike.com; ​Price:​ $25
4. GapFit Runaround Joggers
The looser fit and breathable quick-dry fabric make these GapFit joggers a must-have for low-intensity workouts (and for lounging post-workout, too). Choose from a range of light colors, including white, tan khaki, pink English rose and vintage palm.
​Buy it:​ Gap.com; ​Price:​ $47-$70