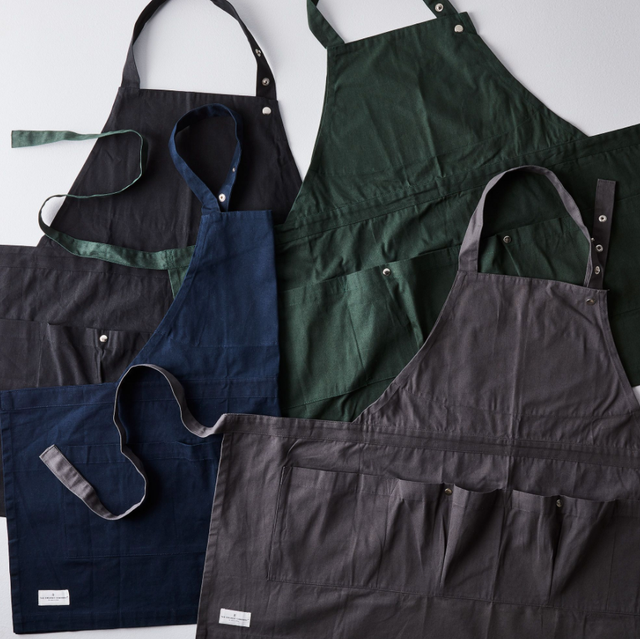 Food52
If you can cook without making a mess, God bless you. But if you're a mere mortal, cooking comes with drips and messes, splatters and spills. And more often than not, the mess usually finds its way to your clothes.
No matter what you're wearing (even if you have a dedicated raggedy t-shirt for cooking), you should be protecting your 'fit from cooking mishaps. The variety of aprons are virtually endless, so much so that an apron can be the pièce de résistance of your outfit if you pick the right one. From linen to cotton and smocks to cross-backs, let these eight aprons guard you from the mayhem of the kitchen.
Advertisement – Continue Reading Below
Choice Brand Bib Apron
Choice Brand
webstaurantstore.com
$2.70
Consider the Choice Brand Bib Apron the apron of the people. There are no frills — just two front pockets and an adjustable fit so it suits everyone. Also, it's literally under $3. Just buy this.
World Market Blue and White Ticking Stripe Apron
Want something with a little more panache that's still affordable? This 100-percent cotton apron is like wearing your favorite t-shirt except you won't mind getting this dirty.
Crate & Barrel Ryori Japanese Blue Apron
crate and barrel
crateandbarrel.com
$29.95
Smock aprons don't get enough credit. They're supremely comfortable to wear because they're so loose and flowy, and they don't restrict you while you're trying to cook. They also look like you're wearing a potato sack. 
The Ryori smock apron still fits like a potato sack, but its deep blue hue — which resembles denim — with contrasting white stitching gives it an upgraded look.
Tilit Supply Apron
Since 2012, the family-run Tilit has been making workwear for chefs. From hats to aprons, Tilit is every chef's go-to. Even Ghetto Gastro chef Lester Walker is a fan. The brand's Supply apron is its cheapest offering, but it still packs a shopping list of chef-approved features. 
The tilted chef pocket is a subtle feature that makes it more natural to store and grab things; the side-release buckle makes it easier to take the apron on and off instead of putting the whole thing over your head; and there's an interior pocket to store your phone — a no-no in professional kitchens but a must-have in home kitchens.
The Organic Company Organic Workshop Apron
The Organic Company
food52.com
$52.00
Oh, you want pockets? The Organic Workshop Apron has lots of pockets, one for each utensil. So many pockets, in fact, you might not even need a spoon rest (though they're nice to have).
Linen Tales Linen Apron
Linen Tales
shopterrain.com
$78.00
From linen shirts to linen bedding, the lightweight, airy fabric is good for everything including aprons. This linen apron is as soft as it is functional. Because it is linen, it's breathable so you can wear this when dealing with high temperatures, such as when you're grilling. And don't worry about its light color — food stains just add to the character of it.
Whitebark Workwear Grenache Red Full Cross-Back Apron
Whitebark Workwear
whitebarkworkwear.com
$102.00
Chefs love cross-back aprons because they don't instigate neck pain the same way loop-neck aprons may. Whitebark Workwear makes its cross-back apron in a variety of colors from a blend of hemp and organic cotton, making it antimicrobial and environmentally friendly. And after you've worn yours to shreds, the apron is completely biodegradable.
Hedley & Bennett The Waxman
Hedley & Bennett
hedleyandbennett.com
$120.00
With its cracks and patina like well-worn leather, you'd be forgive for thinking this apron is leather. It's actually waxed cotton, and it comes from one of the most well-known apron brands around. Hedley & Bennett. The Waxman is heavy duty  (literally since it's 12.5 ounces) and practically indestructible. It's not machine washable, but messes should wipe off easily with a wet towel. This is the type of kitchen essential that gets passed down for generations. 
This content is created and maintained by a third party, and imported onto this page to help users provide their email addresses. You may be able to find more information about this and similar content at piano.io
Advertisement – Continue Reading Below