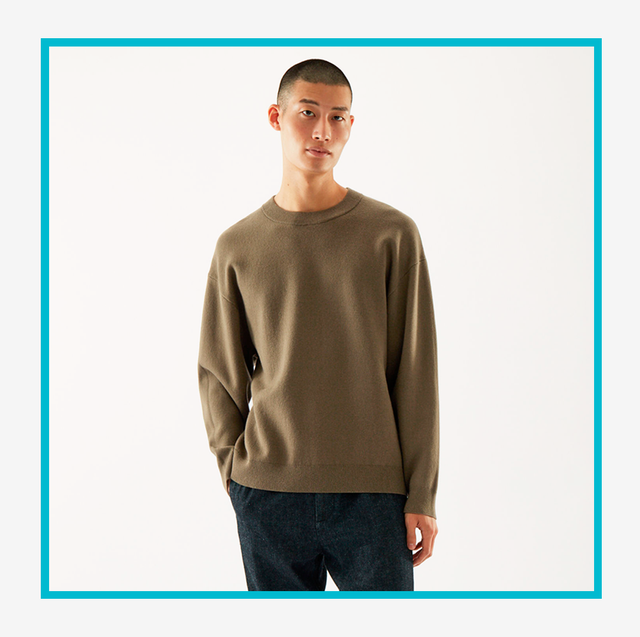 Cos
A person's closet says a lot about who he is: what he likes to do, how he spends his time, and how he presents himself to the world. As men, we understand this. However, that doesn't mean that we want to spend our mornings endlessly picking out outfits to wear. We want clothing that can be mixed, matched, and paired with every other item in our closet to help take the guessing game out of the equation. Wake up, shower, throw something on, come home, take it off, repeat.
Every once in a while though, we have to take a step back and realize that the same white t-shirt's we have been living in are starting to show sweat stains, or our favorite pair of jeans that we have worn to death have become scattered with small rips and holes. These are tried-and-true signs that it's time to invest in a wardrobe refresh. But where do you go for some cool clothing brands for guys that won't empty out your wallet? Sure, there are plenty of cheap brands for men to shop from, but hunting down the best quality clothing for an affordable price is a skillset most guys don't have (or don't have the patience for.)
Luckily, we put in the research and time to find the brands with cheap price tags that prove great style has nothing to do with cash flow. These days, the clothing selection at ASOS, J.Crew, and Uniqlo can look just as good as those at luxury department stores. Best of all, you can purchase clothing from these affordable brands online from the comfort of your home. Below, we rounded up the 15 best affordable clothing brands for men to know and get familiar with. We can guarantee you'll look like a million bucks, without actually having to spend anything close to that. You can thank us later.
Advertisement – Continue Reading Below
Topman
us.topman.com
What makes Topman so spectacular is the wide array of cool men's clothes they offer. From bold printed tracksuits and colorful suiting, to understated outerwear and more minimal everyday basics, the brand truly has something for everyone. The key to shopping with the affordable British retailer is taking advantage of sales and paying close attention to their size guide. With that being said, they deliver quality pieces at a cost-effective price that never misses the mark. 
Asos Design
us.asos.com
If you're ever wondering where you can buy cheap men's clothes, always think about ASOS, especially if you want to try out a new trend. From cool sweats and streetwear styles to elegantly pleated trousers and suits, we can almost guarantee that this affordable e-retailer will have pieces that you love at prices you can't resist. The best part about ASOS though is their streamlined service: complimentary shipping, returns, and around the clock customer service. Oh, and did we mention that they also offer Plus and Tall sizes? It's a total game changer. 
Uniqlo
uniqlo.com
If you don't live in a huge city, then you may have yet to discover the magic of Uniqlo's high-quality clothing that's made with innovative fabrics for affordable prices. Their easy-to-navigate website is filled with timeless minimalist styles that are built to last, adding to their cost-per-wear value. 
For workouts, check out their Airism line that offers breathable clothes with moisture-wicking capabilities. For those who like more fashion forward shapes, the retailer always has a string of cool collaborations happening, especially their seasonal Uniqlo U collection by former Hermès designer, Christopher Lemaire. 
Consider this one of the best clothing stores offering affordable wardrobe basics that look far from cheap. 
Amazon Essentials
amazon.com
Sometimes, you just need quick, affordable fashion ready at your fingertips—and who better to serve up that kind of convenience than Amazon? The mega e-retailer has hit their fashion stride with their Essentials line of clothing for men. Find all the wardrobe fundamentals a man needs—from stylish sweaters and sleek joggers, to multi-pack t-shirts and underwear—all at a great price that's cheaper than competitors. 
UpWest
upwest.com
A company whose mission is to provide comfort—Need we say more? While doling out just that, UpWest's pieces are also timeless and fashionable. They take pillow soft fabrics and craft them into some of the coziest pieces you can imagine: super-soft button-ups, textural waffle henleys, and eco-friendly jeans are just the starting point. Did we mention that they also give back to multiple organizations and causes? Looking good has never felt so great. 
Carhartt
carhartt.com
From their now iconic beanies to their fleece-lined jackets and sleek hoodies, Carhartt is a reliable brand for durable and rugged gear men can't get enough of.  Since the early 1900's, the American brand has taken deep pride in their rich history of producing high-quality workwear for steam, steel, and locomotive workers. Fast-forward to today, the brand can be seen on everyone from industrial workers to fashion-forward men and women alike. 
Boohoo
boohoo.com
For those who haven't heard of Boohoo before, think of them as a hip and trendy spot to try out some seriously cool styles on the cheap. They operate on a drop schedule, which means that they have new products added to their site daily. What catches our eye the most is their athleisure offerings, ranging from moisture-wicking workout shirts to muscle-hugging sweatpants.
J.Crew
jcrew.com
While J.Crew has a preppy connotation, one would be remiss to write them off as just that. In the past few years, they have managed to strike an impressive balance that blends modern, casual shapes with a polished ruggedness. From the perfect button-down shirt styles to some seriously sleek takes on modern suiting, the mass-retailer is chock full of impressive pieces that won't break the bank.
Gap
gap.com
Remember how cool Gap was in the '90s? They still offer simply stylish duds for an affordable price. Look to them for low-priced sweats, chinos, and T-shirts that are perfect for layering. Make sure to keep an eye out for their upcoming collaboration with Kanye West.
H&M
hm.com
The affordable retailer has come a long way over the years. What was once a great place to try out new trends for cheap prices has developed into a company that has put eco-conscious clothing and social issues at the forefront of their identity. This means you can find more thoughtfully designed and constructed clothes with timeless appeal. While keeping prices low, they have managed to create an array of great wardrobe staples that every modern man can get behind. Whether it be the ideal pair of jeans, textural sweaters, or stylish shirting, these pieces are perfect for layering and stocking up on. 
COS
cosstores.com
For all of the minimalist men out there, consider COS your new favorite shopping destination. Owned by H&M, COS—which stands for Collection of Style—offers modern styles and silhouettes in higher-quality fabrics and cuts. Think of them as a sophisticated take on wardrobe staples that merge comfort with fashion-forward style: sweaters take the shape of sweatshirts, perfectly-fitted trousers come with a comfortable elastic waistband, and streamlined sneakers come with light-as-air soles. Pro-Tip: If their prices are a little high for you, we always suggest paying close attention to their sales, which almost always help to ensure a pretty decent discount. 
JACKTHREADS
jackthreads.com
JackThreads has gone through a lot of changes since its founding in 2008;. However, one thing is still clear: they can still supply you with a great array of everyday wardrobe staples to help elevate your closet. Think minimal chino pants, perfectly-fitting T-shirts, and essential shorts that skip on the heavy price tags, but not on the style. 
Mango
mango.com
Mango is a Spanish retailer that has recently hit it big in the US. Their sharp sense for dressing and smart take on fashion stays at the core of what they do, attracting attention from average Joes and celebrity stylists alike. In summer, you can see more of their linen wares and Mediterranean roots, while come winter, you get more of a polished urbanite vibe of more tailored pieces that easily look like you spent double the amount than they actually cost.
Target
target.com
Target is the ultimate one-stop shop equipped with just about everything you could ever need,  including some pretty great clothes for crazy-cheap prices. In the past few years, the mega-retailer has revamped their menswear offerings to include performance apparel that rivals the likes of Lululemon and Nike at about half the price, along with a great line of basics called Goodfellow & Co. that won't cost an arm and a leg. 
Suit Supply
suitsupply.com
Honestly, it's unclear how we survived without Suit Supply. If you need a suit for your everyday office attire, a special occasion, or anything in between, they have you covered. With dozens of suiting styles, hundreds of fabric options, and endless accoutrements to put the finishing touches on your dapper look, we suggest you start thinking of Suit Supply as your new favorite formalwear destination. 
This content is created and maintained by a third party, and imported onto this page to help users provide their email addresses. You may be able to find more information about this and similar content at piano.io
Advertisement – Continue Reading Below