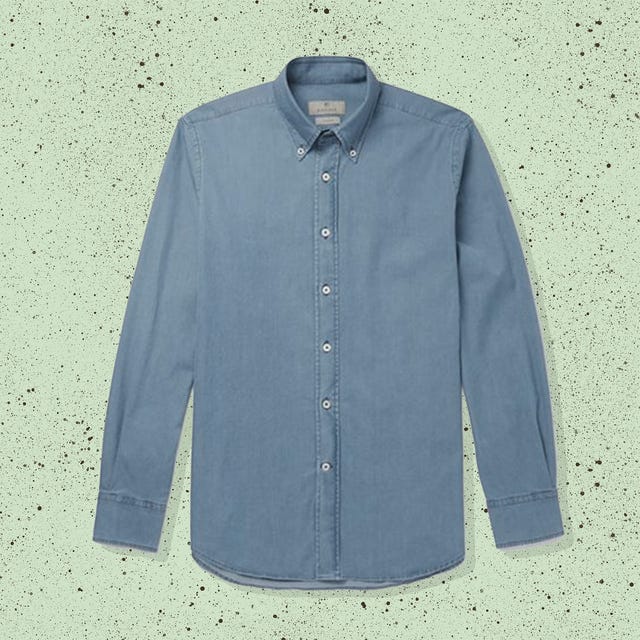 Matches Fashion, Mr Porter
No, we didn't think it'd last this long either. But like wrinkles, and taxes, and ignoring WhatsApp messages from meme-drunk parents, the big clothes sale period has come around despite of Covid-19. With shops being closed and all, it means millions don't even have to brave a high street this time either. Simply log on, scroll through and pull the bottom out of a bank account that's all fattened up thanks to a full year spent indoors.
Like the promise of The Hallowed Vaccine, it's not that easy. Very little is these days. With no footfall in stores, tremendous amounts of stock have been uploaded. There's a lot to scroll through. As in carpal tunnel therapy a lot. And even then, stumbling upon that grail piece is a hollow victory when the only size available is XXS – and a huge amount of time has been wasted on an empty dream of a really lovely Casablanca hoody.
Because yes, it is a waste of time – even when you've got plenty on your hands. That time is better spent on the best Netflix movies, or trying to piece together the actual ending of Tenet like a Bletchley Park codebreaker on shrooms (yeah, good luck with that by the way). Clothes sales haven't got any easier, then.
Except they have a bit. Because, in a balm to the usual fruitless search that ends on page 23 of Mr Porter, we've pulled together all the best of the online clothes sales. And hopefully, they might even have it in your size.
Advertisement – Continue Reading Below
1
Vetements
SHOP
Demna left, but Vetements kept on doing what it was doing: upsetting the fashion industry as the enfant terrible, and releasing stuff that both satirised and glorified clothes that were once ignored by the blue chip enclave. All of which is very cutting edge. But in a simple branded T-shirt, you've still got the cachet of Vetements and it's far subtler than a pair of £1,000 yeti feet slippers.
Logo Print T-Shirt, £230 £138, matchesfashion.com
2
Canali
SHOP
Though Canali is often associated with the sort of Italian tailoring that makes everyone at a Sicilian funeral look like a campaign model, it also does strong, solid basics with the same sort of flair – much like this button down chambray shirt.
Blue Chambray Shirt, £225 £157.50, mrporter.com
3
Jil Sander
SHOP
Even though its namesake designer left the brand (twice), Jil Sander hasn't changed all that much in the last 20 years. That's because it doesn't need to. The Temple of Jil builds clean classic clothes that last, and cost as a result. So get in on the investment at a massive 40 per cent off and get lots of 'oooh, nice's from fashion types.
Drawstring Trousers, £420 £252, matchesfashion.com
4
Common Projects
SHOP
As you'll have spotted from that telltale serial code, these hiking/combat boots are by master of minimalism, Common Projects. But you might not know that they're a third off in the SSENSE sale.
Black Leather Hiking Boots, £715 £428, ssense.co
5
Paul Smith
SHOP
On which note, 74 per cent off this Paul Smith blazer might be the steal of the season. Well, you have got all those postponed weddings lined up this year.
Brown Contrast Collar Blazer, £1,284 £334, ssense.com
7
AMI
It can be tough to justify something this punchy at full whack. At 50 per cent off, however…
Check Patch Pockets Coat, £1,176 £588, farfetch.com 
8
Vans
SHOP
Vans did what was seemingly impossible: it made skatewear a modern classic. The OG – arguably the brand's sneaker equivalent of a 720 gazelle flip – is testament to that, and something you can now get in your rotation for much, much less.
OG Style 36 White, £98.01 £68.61, mrporter.com
9
Polo Ralph Lauren
SHOP
You won't get in at the barbers before the next Zoom quiz, and a Polo Ralph Lauren baseball cap is the next best thing to a cut with your regular.
Sport Baseball Cap, £45 £29, endclothing.com
10
Mr P
SHOP
Overshirt, shacket, a layer mandated by God: whatever you want to call it, it's a bona fide menswear gift that can be slotted in with anything, really. Mr P's option is black (versatile!), virgin wool (soft!) and 40 per cent off (prudent!)
Black Overshirt, £525 £315, mrporter.com
11
Commas
SHOP
Fun shirts aren't just for summer, or for the times when you actually have fun. Get ahead of the big immunity summer with a striped Seventies discotheque in Havana shirt from Commas, and do so at 50 per cent off.
Solar Cuban-Collared Shirt, £320 £160, matchesfashion.com
12
E Tautz
SHOP
A regular headliner during London Fashion Week, E Tautz has been headed up by designer Patrick Grant since 2005 to become a brand that's known for really good trousers – and jeans.
Contrast Stitch Slim Jeans, £220 £132, matchesfashion.com
13
Arket
SHOP
If a lockdown calls for anything, it's comfy, oversized T-shirts that won't weigh on your conscience. Which is exactly what Arket offers (for less) in a 50 per cent recycled staple.
Heavyweight T-Shirt, £35 £25, arket.com
14
Stone Island
SHOP
Stone Island is oversubscribed at the best of times. So when you've a nylon jacket that sits right in the sweet spot between the brand's sporty aesthetic and menswear classic proper, you're onto a serious trophy in the sale tab.
Nylon Blue Jacket, £415 £290.50, mrporter.com
15
Christopher Kane
SHOP
Nature is a wonder! So is marked down Christopher Kane.
Naturotica Peach T-shirt, £225 £112, matchesfashion.com
16
Nike
SHOP
Nike Killshot sneakers fly off the shelves. When they're marked down by 30 per cent, they'll go even quicker. So either buy now, or suffer at re-sale.
Cream Killshot OG Trainers, £75 £52.50, mrporter.com
17
Norse Projects
SHOP
Oxford shirts work over a T-shirt, under a suit, with anything you want, and that versatility is matched with good clothesmaking from Norse Project.
Pale Blue Oxford Shirt, £120 £85, endclothing.com
This content is created and maintained by a third party, and imported onto this page to help users provide their email addresses. You may be able to find more information about this and similar content at piano.io
Advertisement – Continue Reading Below