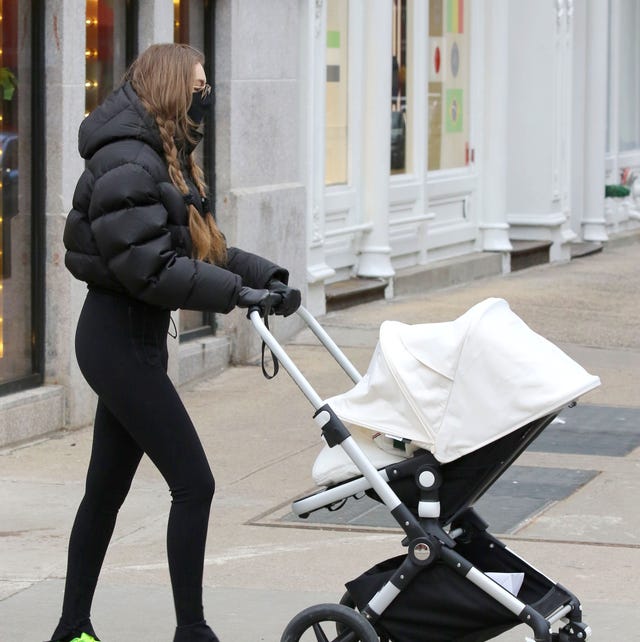 MEGAGetty Images
As a new or even a seasoned parent, you may wonder, Why do I need a designer diaper bag when I can use a canvas tote or really any bag? Well, when you make a list of all the essential items you need to carry for your little one, you'll soon realize why a dedicated luxury diaper bag with assorted pockets and compartments to help you stay organized and prepared is a must-have.
Necessities like diapers, wipes, an extra set of clothes, a pacifier, and bottles all need somewhere to live. Toss in a toy or two to keep your little one interested and calm, and instead of streamlined travel, you're lugging multiple bags. Designer diaper bags have room for all the above plus extra space for your keys, wallet, and phone.
Ahead, we've curated a variety of styles—backpacks, stroller handlebar bag attachments, totes, messenger diaper bags—that are durable and feature easy-to-clean materials. A daily accessory, your diaper bag will be getting a lot of use; you may as well make a statement with one of the elevated styles below.
Advertisement – Continue Reading Below
1
Ophidia Printed Coated-Canvas Diaper Bag
Gucci
net-a-porter.com
$1,250.00
This Gucci messenger style includes pockets and compartments, both inside and outside, and add lots of functionality to any diaper bag while looking sleek. 
2
Large Oiled Canvas Baby Bag
Kassl
nordstrom.com
$440.00
Kassl's diaper bag is more appealing for moms and dads who prefer a tote that seamlessly fits with everyday style.
3
Call Me Viv Shopping Bag
Roger Vivier
rogervivier.com
$1,995.00
When it comes to this Roger Vivier canvas shopping tote, the bottom line is: We love it! And you will, too, as you carry it around day after day with your baby.
4
Gingham Print Canvas B-Army Tote with Red Leather Panel
Balmain
balmain.com
$1,395.00
Balmain's tote is a great choice that you can carry with ease. Keep it stashed in the basket of the baby stroller when you don't need it.
5
Nylon Diaper Bag
Prada
prada.com
$1,620.00
The ultimate designer diaper bag, this one comes complete with a bottle holder and a fabric changing pad. Plus, it's made of classic Prada nylon, which makes it easy to clean.
6
Multicolor Branded Diaper Bag
Fendi
saksfifthavenue.com
$1,650.00
Fendi's graphic-striped diaper bag is roomy and will get you noticed on the playground. 
7
Diaper Baby Bag
Caraa
Caraasport.com
$295.00
This unisex baby bag is vegan and machine washable, and features a luggage sleeve that makes it easy to sling around a stroller. Also, it contains multiple insulated compartments for storing bottles and formula. 
8
Logo Baby Changing Bag
Emilio Pucci Junior
farfetch.com
$464.00
Bold and covered in a Pucci print, this bag is sure to get all the compliments. It also includes a padded diaper pad, making changing easy on the go.
9
Logo-Print Padded Changing Bag
Givenchy Kids
farfetch.com
$423.00
Givenchy's style is made from a water-repellent material featuring logo-printed handles that are convertible for extra comfort. 
10
Watson Nylon Diaper Bag Backpack
Burberry
saksfifthavenue.com
$750.00
A nylon diaper bag that does not even look like a diaper bag, this style by Burberry allows you to be hands-free so you can easily multitask. Lined with the iconic Burberry print, this backpack will get the attention of your partner too.
This content is created and maintained by a third party, and imported onto this page to help users provide their email addresses. You may be able to find more information about this and similar content at piano.io
Advertisement – Continue Reading Below