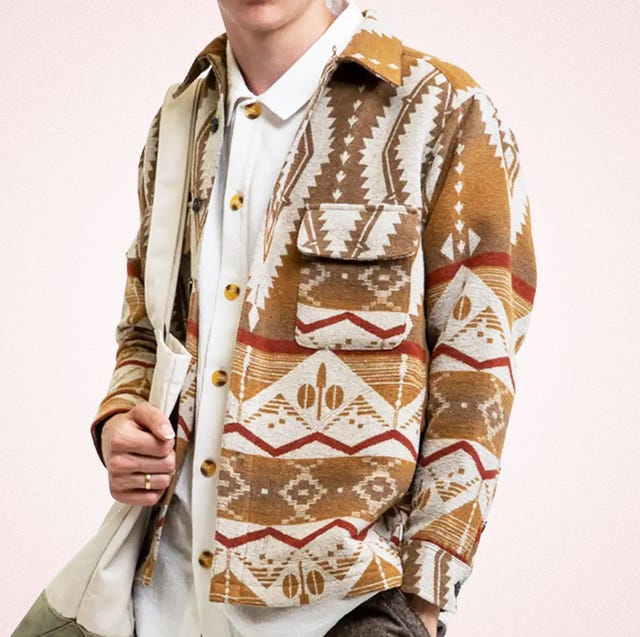 Elaine Chung
It's easy to talk a big game about all the dressing you're going to do come winter when it's still 60 degrees and sunny out. Far more difficult, however, is actually delivering on the braggadocio once the temperature drops and—boom!—you suddenly find yourself shivering through five layers of fleece, wondering how you ever could've been so naive.
The mark of the truly stylish, then, is not how you dress when it's perfect lightweight-layering conditions but how you dress when the odds are stacked against you, when global events (including worldwide WFH orders and particularly shitty weather) conspire to make you a sedentary dresser, one content with wearing sweatpants day in and day out. And so to you, I say: What type of dresser are you?
Perhaps you've been resting on the laurels of fits you've gotten off in the past. Perhaps you've simply given up. Either way, it's never too late to up your game with a vengeance, like you're Jordan coming back to torch the entire damn league in '95. And as it turns out, you don't need a whole lot of cash to stock up on the type of cold-weather essentials that'll see you through the season in style. A hundred bucks—and this list—will take you plenty far. From cozy fleece jackets to the moisturizer that'll keep your moneymaker in prime condition throughout the coldest months of the year, this is everything you need to establish your stylish bona fides for good—all for below a Benjamin.
Just don't call it a comeback.
Advertisement – Continue Reading Below
Hydro Salve Lip Balm
Baxter of California
mrporter.com
$10.00
Keep that cute little kisser looking like it. 
Retro Stripe Socks
American Trench
huckberry.com
$12.50
Heavily cushioned socks knitted in North Carolina (from American-grown cotton, naturally) with the right touch of retro flare. 
Immediate Moisture Facial Hydrosol
Aesop
mrporter.com
$25.00
Lightweight moisture for when your skin needs that added dose of hydration. 
Cold Plasma Plus+ Hand Therapy
Perricone MD
perriconemd.com
$29.00
There's only so much washing your hands can take before they'll start crying out for a lipid-packed solution to restore their natural softness. When they do, here's what to reach for. 
Etip Salty Dog Knit Tech Gloves
THE NORTH FACE
nordstrom.com
$35.00
Touchscreen compatible fingertips that'll let you handle your business with ease wherever you are. 
Signature Ribbed Cashmere Beanie
Yosemite Embroidered Corduroy Baseball Cap
PARKS PROJECT
nordstrom.com
$38.00
Parks Project makes just the type of crunchy, throwback-inflected gear you should be repping in support of one of our country's most famous outdoor spaces.
Tartan Lambswool Scarf
Barbour
endclothing.com
$55.00
For all things cold and blustery, Barbour knows best. 
Reversible Fleece Jacket
Super-soft, funnel-necked fleece perfect for cold-weather layering. (What more, really, can you ask for?)
Loopback Sweatshorts
Entireworld
theentireworld.com
$68.00
A soft cotton sweat short perfect for a WFH workout break (or for telling yourself today's the day you'll definitely take one).
Corduroy 5-Pocket Pants
Bonobos
bonobos.com
$68.00
For the traditionalists among us (hey, there!) Bonobos cuts its corduroys just like your trustiest jeans, and out of super-soft stretch cotton, to boot. 
Organic Cotton Rollneck Crew Sweater
L.L.Bean
llbean.com
$69.95
Remember, kids: Stop, cop, and roll. 
Terry Trousers
Richer Poorer
richer-poorer.com
$78.00
Your favorite sweatpants, now in trouser form. 
Antone Overshirt
Rhythm
huckberry.com
$80.00
Ready-made for serious wintertime layering. 
Flannel Chore Jacket
Everlane
everlane.com
$88.00
A sturdy flannel chore coat for all the budding Bill Cunninghams out there.
Recycled Down Jacket
Uniqlo U
uniqlo.com
$89.90
The liner jacket we just had to endorse. 
Wallace & Barnes Cotton Long-Sleeve Polo Sweater
The polo you throw on when you need to look presentable but don't want to compromise on comfort. 
Super-Plush Robe
Brooklinen
brooklinen.com
$98.00
So cozy it'll leave you feeling like you stepped out of an outdoor hot tub at a Nordic spa somewhere with snowy mountaintops in the distance. 
Wide Wale Corduroy Overshirt
Madewell
eastdane.com
$98.00
Because like nothing says winter like heavy-duty corduroy done up in a rich shade of tobacco brown. 
Fur-Lined Chelsea Boots
Dr. Martens
ssense.com
$99.00
Boots that mean (fur-lined!) business.  
Get Expert Style Advice, Every Day
This content is created and maintained by a third party, and imported onto this page to help users provide their email addresses. You may be able to find more information about this and similar content at piano.io
Advertisement – Continue Reading Below